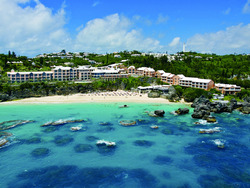 Right now there's an incredibly limited supply of very expensive, full-ownership real estate in Bermuda
Southampton (Vocus) February 28, 2008
Bermuda offers an exceptional location, beauty, climate and history, and enjoys the highest per capita income in the world, more than 50 percent higher than that of the U.S. No wonder sophisticated Americans dream of owning a beach vacation home in this little island paradise. Traditionally only available to the super-wealthy, owning a dream vacation home in Bermuda has become possible for a whole new set of travelers owing to the development of fractional ownership.
With only 12 homes for sale starting at $4.8 million and 10 condos with an average price of $2 million on the market, real estate opportunities are limited and virtually unattainable for most, according to Rego Sotheby's International Realty.
A Bermuda government policy severely restricts the amount of real estate sold to foreigners, thus drastically limiting the amount of available island property. Considered tourism properties, these new residence clubs are not affected by the same government restrictions making fractional ownership the hottest real estate trend to hit Bermuda.
"Right now there's an incredibly limited supply of very expensive, full-ownership real estate in Bermuda," explains Buddy Rego of Rego Sotheby's International Realty. "And these island homes cost on average $1,000 per square foot. So a 3,000 square foot home sells for around $3 million. As a result, luxury residence club homes, which sell at a fraction of the cost, are becoming increasingly popular. They are being bought by people who want to enjoy Bermuda resort living, but don't want the multi-million dollar price tag."
Buying at the very beginning of a residence club's development can prove to be a great investment. According to The Helium Report (http://www.heliumreport.com/private-residence-clubs), a web site dedicated to luxury real estate, residence clubs, yachts and jets, "It is best for buyers to purchase their residences during the earliest phase, as there is typically a 30+ percent price increase between the first and final phases."
On this island known for luxury hotels, The Reefs is consistently recognized as the best hotel in Bermuda by all the major travel publications including Condé Nast Traveler and Travel+Leisure. Bermuda's newest residence club - The Reefs Club (http://www.reefsclub.com/) - is being built right next door to this renowned hotel and is in the first phase of development.
Currently The Reefs Club is offering chic, fully furnished two- and three-bedroom residences with unobstructed ocean views seen through a dramatic wall of windows. Homes are just steps away from the hotel's three gourmet restaurants, a secluded pink sand beach, and world-class diving and snorkeling. Amenities include an owner's lounge, infinity-edge pool, new full-service spa and rooftop putting green with impressive views of the Atlantic. A dedicated concierge coordinates dinner reservations, golf tee times and on-site spa appointments. Ownership at The Reefs Club starts at $345,000 and completion is planned for early 2009.
Tucker's Point Club was the first combined luxury resort, private residence club and residential community on Bermuda. Located in Tucker's Town, Tucker's Point Club has two-, three- and four-bedroom villas overlooking Harrington Sound, Castle Harbour and a championship golf course. The Residence Club at Tucker's Point is sold out and a second residence club at Harbour Point is due to open mid-year 2008. From initial groundbreaking to sell-out prices at Tucker's Point Club rose approximately 30 percent – in line with what the Helium Report would suggest.
The Reefs Club and Tucker's Point Club are members of The Elite AllianceSM, an exchange program offering owners luxury beach, ski and golf vacations at other Equity Residence ClubsSM around the world. Members may use their residences as often as they wish, subject to availability. Residence club ownership is ideal for those wishing to spend several weeks per year at their home, but don't want the hassles and expenses of maintenance, security, taxes and insurance costs associated with whole ownership properties.
The Newstead Belmont Hills Golf Resort and Spa is a full-service resort that offers fractional ownership of one-, two- and three-bedroom suites. The resort is located on Hamilton Harbour with views of the capital city of Hamilton and surrounding areas. It combines traditional Bermudian architecture with modern features, maintaining the old world charm of a small boutique hotel and cottage community. Prices range from $129,000 to $360,000.
Fractional ownership at these Bermuda resorts gives owners deeded real estate that can be sold, willed or placed in a trust like any other form of real estate. Given the island's convenient access with nonstop, two-hour flights from many East Coast cities, Bermuda enthusiasts are sure to embrace these new ownership opportunities for a lifetime of luxurious Bermuda vacations.
DCP InternationalSM (DCP), consultant to The Reefs Club and Tucker's Point Club, pioneered the Equity Residence ClubSM concept in 1992 with the Deer Valley Club at Deer Valley Resort in Utah. Highly regarded in the industry, DCP has offered expertise in design, marketing and sales to private developers on more than 30 projects in the United States, Mexico, the Caribbean and Europe.
http://www.dcp-international.com
###