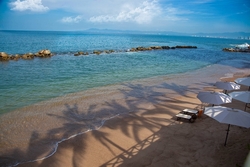 There are better values now for visitors here in Puerto Vallarta than we have seen in many years
(Vocus) November 4, 2010
Great service and added values with better rates than ever in Puerto Vallarta Hotels. Just the perfect getaway for a family vacation; beautiful beaches, good food and a very safe destination.
"There are better values now for visitors here in Puerto Vallarta than we have seen in many years," says Dennis Whitelaw, President of the Puerto Vallarta Conventions and Visitors Bureau.
Whitelaw says tourists are now steadily returning to Puerto Vallarta beach resorts and to many other popular Mexican destinations following a severe, two-year decline in Mexico's tourism industry which follows only oil exports as a foreign exchange source for the country. In large part, the tourists are back in Puerto Vallarta in response to attractive discounts on hotel pricing and tours. Whitelaw estimates that hotel room pricing has been reduced by an average of fifteen to twenty percent in Puerto Vallarta hotels over the last two years. Even greater discounts are available for many of the tours that bring Puerto Vallarta visitors up into the jungled mountains for canopy rides or out onto the bay for a day's escape to a beach village for lunch. Restaurants have also pulled back from any price increases and some have added attractively priced specials to compete for the more than 3.4 million visitors who come each year to Puerto Vallarta.
Two years ago, Puerto Vallarta hotels entered an intense drought in bookings, with many hotels registering double digit reductions. Whitelaw says, "In 2009, Puerto Vallarta hotel occupancies were off by about 25 percent from our peak in 2008. This season (2010-1011), it looks like we will be up by about 10 percent over last year and by the 2011 – 2012 high season, Puerto Vallarta hotels could see nearly a full recovery."
But what exactly has Puerto Vallarta been recovering from? Beginning in 2008, the town suffered a perfect storm that combined the global recession with rumors of swine flu and reports of drug wars in Mexico. The swine flu rumors were just that, and the drug related violence has been focused primarily in Mexico's border zone, although media coverage in the U.S. has often failed to distinguish between the conflicted areas to the north and the tranquil beach destinations such as Puerto Vallarta to the south.
"Most U.S. residents in Puerto Vallarta feel safer here than in their home cities," according to Gelsey Fadul, Marketing Director for Playa del Sol Costa Sur, a Howard Johnson Hotel on the beach about ten minutes south of town.
Fadul says, "We have had to reduce pricing in order to compete for every booking, just like everyone else in this business. But it's working. Our occupancies will be almost back to normal this high season. It's a great time to enjoy Puerto Vallarta because it's the same beautiful place but everything has been re-priced to compete in these new market conditions."
At Playa del Sol Costa Sur, located on a secluded beach along the rugged and beautiful South Shore of Puerto Vallarta's Banderas Bay, Fadul says that the Mexican market for hotel accommodations "remained loyal and active" during the two years in which Americans and Canadians stayed at home. "The national market here really helped tremendously, especially in the summer months when we don't see that many people from the States and Canada, even during good years."
Fadul notes that the long term outlook for Puerto Vallarta hotels is excellent. "We are investing in a major renovation at the hotel, simply because we know that Puerto Vallarta has all of the features necessary to compete very successfully in the tourism market. There will always be surprises in this business, but Puerto Vallarta is in a 'sweet spot' location with wonderful people, perfect weather and a gorgeous bay surrounded by green mountains. If we price it right, Puerto Vallarta will always be a great value – a magnet for people looking for a tropical getaway close to home."
###