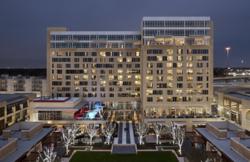 "This program will help target preventable illnesss that are among the leading causes of death among young children." says Nancy Alonzo, Director of Sales & Marketing.
Houston, Texas (PRWEB) April 18, 2012
The Soap Truck is celebrating the debut of its first retail kiosk this weekend at CITYCENTRE's Sunday Market with an Earth Day soap drive on April 22nd from 4 until 7 pm. With each purchase, The Soap Truck will make a soap donation to Clean the World, a global non-profit that distributes personal care products to impoverished people with the goal of preventing millions of needless deaths attributed to hygiene-related illnesses. The drive will also showcase a renewable element of Clean the World's programming in partnership with CITYCENTRE'S Hotel Sorella by accepting donations of unused soaps and bottled amenities.
As a new Clean the World affiliate, Hotel Sorella CITYCENTRE, by Valencia Group, now incorporates the organization into daily operations by collecting guests' gently used bath amenities, including soap, shampoo conditioner and lotion, which the non-profit then sanitizes and recycles in a patented process certified to be 100% effective in killing all pathogens. The hotel and meeting planner components are key to Clean the World's growth and impact. Since its 2009 inception, Clean the World, a natural disaster first responder, has put approximately 10 million soap bars and 200,000 pounds of shampoo and conditioner back into human use in 45 countries, simultaneously eliminating over 600 tons of waste.
According to Hotel Sorella's Director of Sales and Marketing Nancy Alonzo, "We're honored to be a part of Clean the World. This program not only repurposes a former waste product that can potentially contaminate groundwater systems in landfills, but also targets preventable illnesses that are among the leading causes of death among young children."
Founded by Angela Hornsby earlier this year, The Soap Truck will feature up to 10 unique varieties of premium, handmade soap each week and is committed to CITYCENTRE's Sunday Market through November 2012. This is the company's first retail presence with purchasing previously only available online through a Facebook page: The Soap Truck. The company's website – http://www.TheSoapTruck.com – will debut later this week.
Hornsby started making soaps as a child after learning the process from her grandmother. Her love of suds led to a retail store in Franklin, Tennessee and later a career in district management with L'Oreal and L'Occitane. A two-week, cold curing process, which relies on a natural chemical process, maintains the integrity of the quality ingredients, including olive, coconut and essential oils. Among Hornsby's signature items is the "bomb bomb," which fizzes as it dissolves in water. Next in store for Hornsby is the CITYCENTRE launch of The Soap Truck's mobile "shop-in-a-can."
The Soap Truck is one of many exciting elements that make the Sunday Market a popular gathering place with an array of specialty vendors, artists and entertainment offerings that add to the unique ambience of CITYCENTRE's central plaza. For information on the market and kiosk vending opportunities, please log onto http://www.citycentrehouston.com
About CITYCENTRE
Developed by Midway Companies, CITYCENTRE is a thoughtfully planned and meticulously executed self-contained community of sophisticated retail, elegant dining, Class-A office space, corporate penthouse residences, luxurious brownstones and lofts, upscale apartments and the 255-room Hotel Sorella, a world-class hospitality and conference facility. Surrounded by European-style open-air plazas and beautifully designed green spaces, CITYCENTRE is also home to Life Time Athletic, a state-of-the-art urban fitness facility and spa, and Studio Movie Grill, an eight-screen premier cinema. For more information, please visit http://www.citycentrehouston.com. For more information about Midway Companies, please visit http://www.midwaycompanies.com.
About Valencia Group
Valencia Group, a Houston-based company, provides management, development, branding, and repositioning services for full-service, boutique, independent hotels owned by Valencia as well as third parties. As with Hotel Valencia Santana Row in San Jose, California, Hotel Sorella CITYCENTRE in Houston and Hotel Valencia Riverwalk in San Antonio, most Valencia-sponsored hotels are set in the cultural heart of each city. Valencia Group's newest hotel concept is a 21st century re-interpretation of the nostalgic motor court. The flagship will be Lone Star Court, an authentic Americana roadside hotel that will open in Austin's Domain in January 2013. Valencia Group hotels fuse globally-inspired modern design with Mediterranean influences, becoming popular destinations for guests and visitors alike. Valencia Group continues to forge its position as a mixed-use anchor with projects where the right balance of residential, restaurant, retail and office coalesce to create full-spectrum accretive value in great urban settings. Known for exceptional service and style, Valencia Group properties have received international recognition by magazines such as Condé Nast and Travel + Leisure, and by discerning travelers seeking a memorable experience. For more information, please visit http://www.valenciagroup.com.