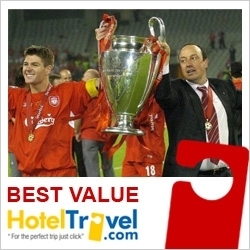 Like the majority of other Liverpool supporters living in Asia, I think about the club every day
Phuket (PRWEB) July 11, 2009
HotelTravel.com is kicking off its new Red 'Best Value' hotel promotion for Liverpool FC friendly matches in Bangkok and Singapore, offering extra discounts on already cut-to-the-bone hotel rates.
In preparation for the start of the 2009/2010 Premier League kick off mid-August the Anfield side will undertake a short trip to the region to face the national teams of Thailand in Bangkok on July 22 and Singapore on 26 July.
HotelTravel.com Online Marketing Manager and lifetime Liverpool fanatic, Mr Gareth Lewis, is hoping the club's pre-season tour of South East Asia later this summer will be the catalyst for Rafael Benitez's Reds to finally end their long 20 year championship drought without a league title.
"HotelTravel.com is delighted to launch its Red 'Best Value' hotel promotion to help Liverpool supporters coming to Bangkok and Singapore for the two friendly matches to take advantage of some of the best hotel deals anywhere.
"Like the majority of other Liverpool supporters living in Asia, I think about the club every day," Mr Lewis said.
A 'Best Value' rate is identifiable by the distinctive red door card hanger that mirrors the new HotelTravel.com yellow door card hanger corporate logo.
The 'Best Value' promotion, offers extra discounts on HotelTravel.com's Guaranteed Lowest Rate policy. Rates change very frequently with a fast turnaround at incredibly low prices. This means that a 'Best Value' offer might no longer be available the next hour or the next day, as all rooms offered for the promotions have been sold.
According to Mr Lewis, when a 'Best Value' offer is displayed, it is a good idea to snap it up immediately.
"These matches were only announced the first week of May. Fortunately the beauty of 'Best Value' rates is that the promotion is perfect for booking hotels on very short notice. Other great 'Best Value' deals quickly replace sold out ones, so the important thing is to keep on the lookout for the Liverpool Red 'Best Value' door card hanger," he added.
For Bangkok Hotels, the closest hotel near the capital's Rajamangala Stadium (also known as Huamark Stadium), is All Seasons Bangkok Huamark Hotel (from US$ 33 per night). Other hotels located near the stadium that offer easy expressway access to the match include Maxx Hotel (from US$ 44 per night), Emerald Hotel (from US$ 59 per night), Grand Mercure Fortune Hotel Bangkok (from US$ 61 per night), Radisson Hotel Bangkok (from US$ 64 per night) and Novotel Bangna Hotel (from US$ 110 per night).*
As of press time tickets in some parts of the stadium were already sold out. Tickets are only available in the North Zone 600 baht (US$ 17.50**) available directly from Profitable Group's offices in Bangkok. Ring the Profitable Group Bangkok Office ticket hot line on +66 (02) 653-2201 for availability.
A number of West Zone Maroon 1,750 baht (US$ 51.50**) and West Zone Orange 2,500 baht (US$ 73.50**) tickets are also available from Adidas shops and from the Profitable Group offices. Tickets in the South Zone, West Zone Yellow and East Zone Kop have already sold out. Tickets for Liverpool's match in Singapore on July 26 are in equally short supply, with just 19 Grand Balcony seats available at press time.
For Singapore hotels, featured properties near Singapore National Stadium include Grand Mercure Roxy Hotel (from US$ 117 per night), Golden Landmark Hotel (from US$ 133 per night), Pan Pacific Hotel Singapore (from US$ 148 per night), Inter-Continental Hotel Singapore (from US$ 194 per night), Mandarin Oriental Hotel (from US$ 201 per night) and Marina Mandarin (from US$ 269 per night).
In announcing the South East Asia friendly series the club said Liverpool received offers from 15 or 16 countries, but chose Thailand and Singapore because the club wanted to create brand awareness and sustainable loyalty among fans in Asia.
Mr Lewis predicted the players would be inspired by the passion of Liverpool supporters in Asia, as well as the welcome and hospitality they receive in both cities.
"I was at Anfield in 1990 when the last Liverpool side won the league title, and I will be in Rajamangala Stadium in Bangkok to cheer them on again. I really believe that the strong support that Liverpool enjoys around the Asian region will give the players a huge lift leading up to the new Premier League Season," he added.
*All hotel rates are as of 11 July, 2009, priced in US dollars and subject to change.
**Currency conversion estimates are based on exchange rates as of 11 July, 2009.
About HotelTravel.com
HotelTravel.com is a leader in worldwide hotel bookings and a pioneer in online customer service, providing the inside track to the best deals and discounts for hotels in more than 100 countries. Founded in 1999, the company's multi-lingual website offers eight languages - English, Chinese, Japanese, French, German, Spanish, Italian, and Korean - supported by a 24-hour customer service centre staffed by native speakers in each language. The company employs over 300 staff with offices in Thailand, Malaysia and China.
# # #