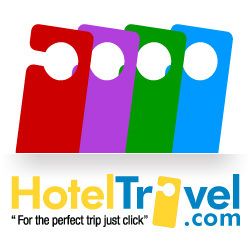 These promotions are hotel deals the way they should be, at the very lowest available rate, with no hidden fees or charges. The best surprise is no surprise, and HotelTravel.com promotional rates are always inclusive of tax and service charges
Phuket (PRWEB) July 17, 2009
HotelTravel.com is launching its biggest online hotel promotion ever, with innovative deals to help consumers make inspired travel decisions and enjoy massive savings on hotel rates.
The company is bringing three additional offers to market: 'Free Night Give Away', 'Economy Buster', and 'Free Goodies Inside'. Each promotion is individually color coded and easily identifiable on the new HotelTravel.com website.
HotelTravel.com's largest ever hotel promotion is perfectly timed to promote reigning Premier League Champions Manchester United's preseason tour of four major Asian cities: Kuala Lumpur (Saturday 18 July vs Malaysia XI), Jakarta (Monday 20 July vs Indonesia All Stars), Seoul (24 July vs FC Seoul) and in Hangzhou (26 July vs Greentown FC).
HotelTravel.com Chief Information Officer, Mr Olivier Dombey, said the additional promotions were based on popular demand after the huge response received from the launch of its 'Best Value' promotion.
"The three new promotions offer rates and benefits that are exclusively available on the HotelTravel.com website. We are delighted that the launch also coincides with Manchester United's much anticipated preseason tour of Asia.
"It allows us to offer their loyal legion of fans deep discounts on hotel deals in Asia and around the world.
"These promotions are hotel deals the way they should be, at the very lowest available rate, with no hidden fees or charges. The best surprise is no surprise, and HotelTravel.com promotional rates are always inclusive of tax and service charges," Mr Dombey, said.
Suggested Kuala Lumpur hotels include Swiss Inn Hotel (from US$ 46 per night), Melia Hotel (from US$ 84 per night) and the Equatorial Kuala Lumpur Hotel (from US$ 92 per night).***
Hotels in Jakarta worth a look include Arcadia Hotel Jakarta (from US$ 66 per night), Sheraton Media Hotel & Towers (from US$ 90 per night) and Crown Plaza Hotel Jakarta (from US$ 106 per night).
Manchester United Korean born striker, Ji-sung Park, was raised in Suwon just outside of Seoul and has become an increasingly important team member since joining the club in 2005. Suggested Seoul hotels include the Tiffany Tourist Hotel (from US$ 62 per night), Ramada Seoul Hotel (from US$ 82 per night) and Novotel Ambassador Gangnam Hotel (from US$ 162 per night).
Hotels in Hangzhou offering great value-for-money rates include International Hotel Hangzhou Hotel (from US$ 56 per night), Best Western Hangzhou Meiyuan Hotel (from US$ 75 per night) and the Holiday Inn Hangzhou (from US$ 91 per night).
Free Night Give Away
HotelTravel.com's 'Free Night Give Away' brings amazing offers from equally amazing hotels. HotelTravel.com customers can get free room nights depending on how long they stay. Ideal for extending stays when travelling on business or leisure, extended long weekends, or to spoil family or friends with a surprise they will never forget. A 'Free Night Give Away' offer is identifiable by the distinctive purple door card hanger.
Busting the Economy Blues
An 'Economy Buster' deal is HotelTravel.com's way to help beat the world's economic downturn, say goodbye to the daily grind and worries, and enjoy fabulous hotels around the world at prices that would seem impossible. 'Economy Buster' deals are pure substantial extra discounts on rooms, for up to 60% on top of the already slashed rates commonly found on HotelTravel.com. An 'Economy Buster' deal is identifiable by the distinctive green door card hanger.
Oh Goody Goody
HotelTravel.com's 'Free Goodies Inside' promotion is packed with free perks and benefits. The many value-added extras range from free transfers to dinners, drinks, tickets to landmarks or attractions; almost anything under the sun could already be included. So, check it out when displayed and get a 'Free Goodies Inside' package for a jam-packed experience. A 'Free Goodies Inside' package is identifiable by the distinctive blue door card hanger.
Last week HotelTravel.com launched its 'Best Value' promotion, offering extra discounts on already cut-to-the-bone rates. Like 'Best Value' rates, hotels offering one of the 'Free Night Giveaway', 'Economy Buster' and 'Free Goodies Inside' promotions change very frequently with a fast turnaround at incredibly low prices.
Mr Dombey said the promotions extend well beyond Manchester United's current Asian tour to cover all the world's most popular destinations.
"Travellers will be sure to find at least one of the hotels deals regardless if they were searching for hotels in Bangkok, hotels in London, accommodation in Singapore or hotels in Paris.
"These hotel deals are ongoing and will cover a good mix of major commercial capitals and key leisure destinations around the globe. They will be as equally appealing for businessmen looking for good rates on Hong Kong hotels, as they would be to holidaymakers searching for deals at Bali resorts," he added.
***All prices listed are non-promotional hotel rates as of 14 July, 2009, priced in US dollars and subject to change.
About HotelTravel.com
HotelTravel.com is a leader in worldwide hotel bookings and a pioneer in online customer service, providing the inside track to the best deals and discounts for hotels in more than 100 countries. Founded in 1999, the company's multi-lingual website offers eight languages - English, Chinese, Japanese, French, German, Spanish, Italian, and Korean - supported by a 24-hour customer service centre staffed by native speakers in each language. The company employs over 300 staff with offices in Thailand, Malaysia and China.
###