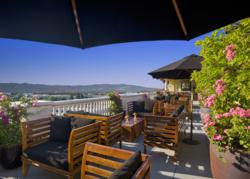 "This campaign naturally fits into everything that the word "Valencia" stands for and reinforces elemetns and attitudes of the brand" Jeff Miraglia, Creative Director
San Antonio, TX (PRWEB) July 13, 2012
Hotel Valencia Riverwalk in San Antonio, TX and Hotel Valencia Santana Row in San Jose, CA are sweetening up the last days of summer with a new guest campaign: Color your Summer Orange. Through September, the two, award winning properties aim to surprise and delight visitors with unexpected appearances of the brand's signature color through avenues designed to impact a variety of senses.
From subtle scents wafting through the lobby and more dramatic visual effects like an exterior lighting wash at night to refreshing agua frescas at Citrus restaurant or tasty, infused cocktails at Vbar, the joy and playfulness of orange – the color of summer sun and fun – will touch each guest experience.
The Valencia brand was inspired by the namesake Mediterranean community in Spain, which is known for its sweet orange trees. That growing history also influenced the naming of California's Valencia Orange.
As Jeff Miraglia, Creative Director with Taylor West explains, "This campaign naturally fits into everything that the word 'Valencia' stands for and reinforces elements as well as attitudes of the brand. We hope that the integration of all things orange will further connect these emotional and experiential cues to the name while rewarding guests with a quicker step, a looser tie and a brighter outlook".
The overriding hope is that the effort will heighten Hotel Valencia's connection to a summer stay, encouraging guest to let orange "paint" their next Valencia vacation too.
About Valencia Group
Houston-based Valencia Group provides management, development, branding and repositioning services for independent, full-service boutique hotels owned by the company, in addition to third parties. Recognized both nationally and internationally for their exceptional service and style, Valencia Group hotels fuse a crisp, globally-inspired modern design aesthetic with warm Mediterranean influences. Valencia Group continues to forge a niche with anchor hotels in mixed-use environments where the right balance of residential, restaurant, retail and office coalesce to create full-spectrum accretive value in sought after urban settings. Signature properties such as Hotel Valencia Santana Row in San Jose, CA, Hotel Sorella CITYCENTRE in Houston, TX and Hotel Valencia Riverwalk in San Antonio, TX have become destinations and gathering places within their respective communities, some further benefitting from and enriching their location within the cultural heart of a city. 2013 marks a year of substantial growth for the company with the second Sorella - Hotel Sorella Country Club Plaza – slated for a fall opening in Kansas City, MO and the launch of a new concept: Lone Star Court. A 21st Century reinterpretation of the nostalgic motor court. Lone Star Court will premier in early 2013 with an Austin flagship in The Domain. For more information, please visit http://www.valenciagroup.com.