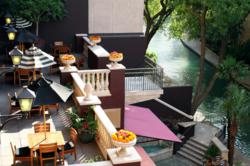 San Antonio, Texas (PRWEB) May 15, 2013
Hotel Valencia Riverwalk is the only hotel in San Antonio and one of only six in the state of Texas on Travel + Leisure's 2013 World's Best Hotels List. Each year, the magazine asks readers who are passionate about travel to vote for the hotels they love the most.
The listing notes the hotel's 'stylish digs' with guest rooms that are 'fitted with posh accoutrements like brown leather headboards and faux-mink throws and feature white Italian marble bathrooms with plantation-style shutters.' The third-floor courtyard is also featured in the listing and described as 'equal parts serene and sleek.'
The magazine pays special recognition to Hotel Valencia Riverwalk's Vbar and Citrus Restaurant. A insider tip recommends Citrus' crab cakes made with chili powder, roasted jalapenos and toasted pumpkin seeds and says they are ' a fiery reminder that you're still in San Antonio.'
To read the full review, click the link below:
http://www.travelandleisure.com/travel-guide/san-antonio-new-mexico/hotels/hotel-valencia-riverwalk
About Valencia Group
Houston-based Valencia Group provides management, development, branding and repositioning services for independent, full-service boutique hotels owned by the company, in addition to third parties. Recognized both nationally and internationally for their exceptional service and style, Valencia Group hotels fuse a crisp, globally-inspired modern design aesthetic with warm Mediterranean influences. Valencia Group continues to forge a niche with anchor hotels in mixed-use environments where the right balance of residential, restaurant, retail and office coalesce to create full-spectrum accretive value in sought-after urban settings. Signature properties such as Hotel Valencia Santana Row in San Jose, CA, Hotel Sorella CITYCENTRE in Houston, TX and Hotel Valencia Riverwalk in San Antonio, TX have become destinations and gathering places within their respective communities, some further benefitting from and enriching their location within the cultural heart of a city. All three of these hotels have earned coveted spots on the Condé Nast Traveler Gold List for 2013. This year is one of substantial growth for the company with the second Sorella - Hotel Sorella Country Club Plaza – slated for an autumn opening in Kansas City, MO and a new concept: Lone Star Court. A 21st Century reinterpretation of the nostalgic motor court. Lone Star Court will premier in autumn 2013 in Austin at The Domain. For more information, please visit http://www.valenciagroup.com.