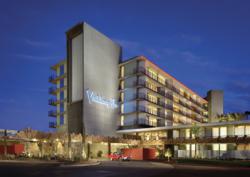 This is a devastating time for many people, and this is our small way of trying to help.
Scottsdale, Arizona (PRWEB) June 10, 2011
Hotel Valley Ho, a four-diamond historic property in Downtown Scottsdale, Arizona, is extending a reduced room rate to those fleeing the current Arizona wildfires. Andrew Chippindall, the hotel's general manager, recognized that many of the accommodations near the fires are being occupied by media and fire crews. He wanted to offer a place to stay to those who may have family in the Phoenix area that may not have enough room to accommodate them, but who they wish to be close to. "This is a devastating time for many people, and this is our small way of trying to help," said Chippindall.
A special rate of $75 per night or $499 per week for a Signature Guest Room is being extended to those who have had to leave their homes. $75 is the lowest staff and family rate that the hotel offers; this amount is needed to cover the basic costs of cleaning, power, and labor. Parking is also offered at a reduced rate; guests can have their standard-size vehicles parked in a secure, underground lot for $10 per night or $65 per week (the normal rate is $14 per night). There is also complimentary parking available in two parking lots on the hotel grounds.
Evacuees are welcome to bring their pets along, with a maximum of two pets per room. Dog treats will be given to those with canines, and all pet owners will be provided with a bowl for water and food. Pets always stay free at the hotel, and are welcome to use the two grassy courtyards.
Those wishing to book the Evacuation Rate will need to provide valid, state-issued identification from towns under pre-, partial, or full evacuation orders. These currently include Nutrioso, Alpine, Greer, Springerville, and Eager; the hotel will accept residents of other towns should they receive evacuation orders.
Reservations must be made by telephone at 480.248.2000, or toll-free at 866.882.4484.
About Hotel Valley Ho: Hotel Valley Ho originally opened in 1956 and reopened in 2005 after an $80 million restoration. This 193-room property blends mid-century design with modern amenities, and features VH Spa for Vitality + Health, ZuZu, Trader Vic's, and the OH Pool.
###