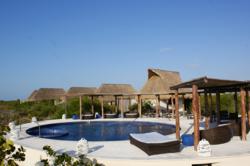 Xixim is the perfect place to reconnect with others and with yourself through presence in nature.
Celestun, Yucatan, Mexico (PRWEB) June 28, 2012
About one hour west of the city of Merida, Yucatan, on three miles of secluded, secure and serene white sand beach inside the nature reserve, Hotel Xixim also announces a new name. Previously known as Eco Paraiso Xixim, this small hotel was designed and built to preserve the natural balance of the reserve's ecosystem and to provide a legacy place of peace within nature. Xixim means "sea shell" in the Mayan language and is pronounced softly: Shee Sheem. Thus, this peaceful seaside health and wellness retreat hotel, its beaches covered with xixim, is now simply "Hotel Xixim" (http://www.hotelxixim.com).
Hotel Xixim's new group pavilion is part of its new Wellness Center. This sea view, circular pavilion is 43 feet in diameter, has a wooden floor, and a vaulted thatched roof in the traditional Mayan style. Natural cross ventilation of sea breezes and ceiling fans create a comfortable place for up to 30 yoga or Tai Chi practitioners, or for Pilates, dance, drumming and other group activities. The large pavilion also offers workshop capacity for up to 80 people seated classroom style and includes electrical connections, audio/visual, and other group instructional equipment. Additional group facilities for 16-20 are available, as well as a second yoga practice area for groups of 25-30. Outdoor sunrise and sunset-facing terraces offer sea views for meditation or yoga practice.
In Xixim's Wellness Center area, additional circular thatched bungalows nestle in the jungle and offer a juice therapy bar; snack bar with vegetarian options; private SPA bungalows open to the sea for healing massage, aromatherapy and other treatments; and a traditional fitness gym. The circular Wellness Center pool, round Jacuzzi, and oval poolside beds, provide quiet spaces for a refreshing swim, reading, or contemplation.
Hotel Xixim has added 17 additional individual Mayan bungalows for a total of 32 suites, which can accommodate up to 64 people on a double basis. Because of the unique design of the hotel, several wellness groups can be accommodated harmoniously at the same time.
The Hotel Xixim dining experience includes the chef's special Mayan recipes, Mayan-Mexican fusion and international cuisine, as well as a separate vegetarian menu.
Verena Gerber is the owner and Managing Director of Hotel Xixim, and the energetic soul behind the hotel's purpose. She says warmly, "Hotel Xixim is an inspiration based on a Mayan village in the midst of a nature reserve. We have great respect for the pristine nature surrounding us: the plants, the animals, the sea life, and the birds, many of which are endemic to the Yucatan. Xixim is the perfect place to reconnect with others and with yourself through presence in nature." She adds, "At the same time, all of our Mayan bungalow suites offer first class comfort – from the soft bedding to the outdoor garden showers in each bath, to the hot coffee or tea and freshly baked bread delivered every morning to each bungalow.
Hotel Xixim's General Manager, Jaime Solis, has overseen the expansion and addition of the new Wellness Center. Comments Solis: "I am very proud to be a part of this unique Mayan hotel here in this magical place, where one can experience contact with nature. The warmth of our Mayan hospitality creates a special place without distractions." Solis adds, "Our group presenters find a place of peace here where their participants can harmonize the body and mind."
Hotel Xixim has received the 2010 Colibri EcoTourism Award for excellence in green infrastructure investments and sustainable practices. The hotel was also awarded the prestigious 2012 Trip Advisor Certificate of Excellence achieved by only 10% of accommodations listed on that consumer review site. The award is given to hotels for consistently achieving outstanding traveler reviews of 5 stars.
Access to Hotel Xixim is through the city of Merida, state of Yucatan, considered one of the safest and most historic areas in Mexico. The hotel provides transfers. Nonstop flights arrive daily from Houston and Miami (with connections from most parts of the U.S., Canada, Europe, and South America). Additional air service is available via connections in Mexico City to Merida.
About Health & Wellness Retreats at Xixim, Celestun, Yucatan, Mexico:
Group organizers, teachers and presenters can request information, group quotes and group reservations by contacting the hotel at groups(at)hotelxixim(dot)com.