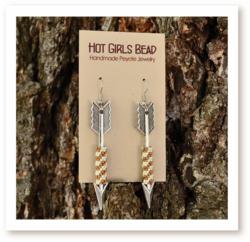 These statement earrings have lots of eye-catching detail and they are great conversation starters.
Mendocino County, CA (PRWEB) May 01, 2013
Tsehaitu Abye, jewelry artist/founder, Hot Girls Bead by Seed Dreams (http://www.hotgirlsbead.com), will have her hand-beaded Bronze Arrow Checkered Peyote Glass Earrings included in gift bags being prepared by The Artisan Group for some of Hollywood's most talked about Mothers and Moms-to-Be, including Shakira, Penelope Cruz, Rachel Wood and many others. The gift bags will be delivered to in time for Mothers Day on May 12.
For these special Mom's Day swag bags, Abye is gifting her popular Bronze Arrow Earrings in the color way, "Butter Cream & Bronze." The earrings feature a striking peyote stitch checkered pattern. The arrow accents are antiqued silver and the ear wires are hypoallergenic stainless steel. The yellow and brown palette complements spring/summer fashions and will transition easily into fall.
"These bead woven statement earrings have lots of eye-catching detail and they are great conversation starters," remarked Abye. "I know the Moms in this group will love wearing them."
Watch a Hot Girls Bead by Seed Dreams video.
Abye is a Philadelphia native who recently moved to California after a 10-year stint in Honolulu. She is an accomplished bead weaver with a passion for peyote stitch, a cross-cultural beading technique with a centuries old history. The painstaking, one-bead-at-a-time weaving technique allows Abye tremendous freedom in terms of pattern and color and she sees each bead as an expression of her artistic vision.
"Sometimes I find my imagination running too quick for my fingers to catch up, which can be a problem," laughed Abye.
Hot Girls Bead by Seed Dreams jewelry collectors range from conservative women seeking a special pair of earrings to spice up their wardrobe to young college girls looking for a fun New Years Eve statement piece. Aficionados of the Hot Girls Bead brand appreciate the use of high quality Japanese seed beads, the limited edition nature of the line; the colorful, on-trend vibe and the energy the pieces radiate as they move with the body. Says Abye, "This is jewelry that is fun to wear, trust me!"
The driving force behind the emerging Hot Girls Bead brand, Abye has been working her one man show hard to gain exposure. In addition to the Mom's Day Gifting, Hot Girls Bead jewelry was recently delivered to several prominent natural hair care bloggers/enthusiasts, including the women of "The Curly Girl Collective;" the editors at "A Curl's Best Friend" and Sunshine of "Sunshine's Natural and Loving It." Earlier this spring, in partnership with The Artisan Group, Abye also gifted The Wendy O. Williams Show five pairs of her Golden Blue Peyote Earrings.
Abye recently launched The Hot Girls Bead Spring 2013 line, "Back to Basics," and is now planning a summer collection. The designer has also donated jewelry to the San Francisco Decorator Showcase 2013 Silent Auction, which raises funds for San Francisco University's financial aid program.
Follow Hot Girls Bead by Seed Dreams on Facebook (IAmHotGirlsBead) and Twitter (@HotGirlsBead). Retail locations interested in carrying Hot Girls Bead jewelry may contact Tsehaitu Abye directly at (808) 391-8353. For press inquiries about The Artisan Group, visit theartisangroup.org.
ABOUT HOT GIRLS BEAD BY SEED DREAMS
Tsehaitu ("say-hi-2"), has been designing and bead weaving earrings for over 15 years. She developed a love for jewelry-making as a child when her mother taught her the art of "peyote stitch," an ancient, intricate Native American bead technique. She worked on perfecting her art while attending college in Hawaii, developing what she calls "intentional creations." Her creations, she says take a great deal of time and patience and intention. With every bead strun g a thought is offered out of her own energy and spirit and becomes part of the gift.
Since graduating from college, Tsehaitu has focused on the creation of her own business, offering her jewelry designs as "Hot Girls Bead by Seed Dreams."
Tsehaitu says that the launch of this new business has bolstered her courage and confidence and intention to move forward as an independent Ethiopian American woman fulfilling her dreams. Indeed the very name of the business itself reflects her philosophy and practice to let even her dreams be seeded with her hopes, images, visions and intentions for success!
Hot Girls Bead by Seed Dreams specializes in Handmade Glass Seed Bead Earrings made of Miyuki Delica glass seed beads, ToHo glass seed beads and other various seed bead companies.