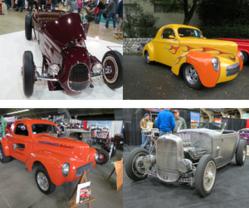 We supply website visitors with a state-of-the-art way to locate and display these beautiful cars, plus providing potential buyers with quick links to the origin of each ad
Santa Cruz, Ca (PRWEB) May 07, 2013
LegendaryFinds.com, a popular website catering to buyers of vintage and classic cars, says that visitors to its website have doubled in the past twelve months.
"Hot rods seem to be one of the main reasons for this increased interest," says Lars Mapstead, an avid collector of cool cars himself and the website's owner. "Surprisingly, large numbers of daily visits are to our pages highlighting sales ads for hot rods—with many of those visits coming from overseas."
"A symbol of American automotive ingenuity not yet convincingly replicated abroad, hot rods seem to be of great interest to foreign buyers," he adds.
"Gathering car ads from across the Internet, the LegendaryFinds.com website incorporates software which instantly displays notable cars as they become available online. And this gives online buyers an advantage," says Mapstead.
The website's focus is on sales listings of hotrods, custom cars, race cars, classic cars and sports cars offered privately or through car dealers.
"We supply website visitors with a state-of-the-art way to locate and display these beautiful cars, plus providing potential buyers with quick links to the origin of each ad," notes Mapstead. "Users can also pass along top finds to other car fans using their Facebook or other social media accounts."
An entrepreneur and Silicon Valley venture capitalist, Mapstead has been involved in the creation of several highly successful social networking and gaming sites.
"The software technology used in some of my other ventures allowed a quick startup with this one," he says. "And the enthusiasm of all involved—for collectible cars and motorcycles too, by the way—provides the spark keeping us especially innovative."
"Being collectors ourselves, we know what it takes to create a great driving experience, as well as a good investment."