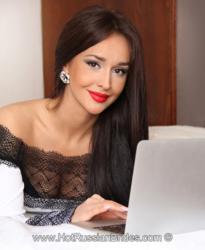 Miami, FL (PRWEB) June 24, 2013
HotRussianBrides.com® – the premier name in International dating —is rewarding loyal customers through their Customer Appreciation Week.
Between June 24 and June 30, any member who purchases a 500-credit package on Hot Russian Brides® will get an additional 50 bonus credits. Credits are used to pay for services on the site, like live video streaming, chat, emails and virtual cards. The promotion is available to all members, both standard and Premium.
On HotRussianBrides.com, members can expect to find and flirt with singles from all over the globe. Using our 19-point Advanced Search Engine, members can narrow down their choices. Then, using innovative services like BlackBook™ and VoyerCam™, members can easily manage all facets of their online relationships.
With hundreds of singles online at any moment throughout the day, new members can quickly find someone to spark up a conversation with. Upon logging in, members can quickly see who is online and streaming live video.
In addition to Customer Appreciation Week, members can enjoy special promotions throughout the year. With promotions that include Video Chat Happy Hours, free Introduction Videos and free Virtual Cards, Hot Russian Brides is constantly aiming to increase member satisfaction and interaction. Through these promotions, Hot Russian Brides hopes to make conversations happen more naturally.
HotRussianBrides.com also conducts exciting events to increase customer engagement and showcase members who aren't getting enough visibility. For example, on July 12, HotRussianBrides.com is launching their "Hottest Bikini Body" contest, where members can vote on their favorite submissions. Both the men and women participating enjoy having additional ways to interact and share some fun.
What sets aside HotRussianBrides.com from other International dating sites is best-in-class Customer Service. Not only does the site offer fast support via phone and email, but there is usually a live Web Hostess on duty to answer questions in real time. Web Hostesses are experts on the site's services and can help both members and potential members with signup, profile set up and site functionality.
Members can also access the Member Help Center and the Russian Women Blog, where they can find eBooks, podcasts and video tutorials. There is help for members every step of the way. The Blog tackles topics ranging from cultural information to dating advice, from current events to language lessons, that will benefit all singles seeking love online whether they are members of HotRussianBrides.com or not.
Joining and browsing through profiles on HotRussianBrides.com is free. Create a profile today and experience why we have been one of the leaders in International dating since 2003. To join, go to https://www.hotrussianbrides.com/default.aspx?c=customerappreciationweek