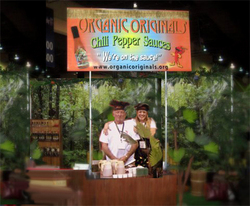 "It's all about the taste, which comes straight from the quality of the ingredients."
Los Angeles, CA (PRWEB) June 25, 2010
Even "Papa Georgio and Gramma Dee" as they are known by their rabidly loyal customers, were shocked at the impact their small booth made at the FMI trade show in Las Vegas in May. They were inundated by both retail and wholesale taste-testers who raved about the product and wanted immediate production and pricing information. By the end of three days their samples were long gone and their order book was full.
Not even a year old, Organic Originals LLC is literally a Mom and Pop company. Founded in October of 2009 by husband and wife team George Ball and DeeDee Rescher Ball of Long Beach, CA, the company's local popularity has grown supersonically by food merchandising standards. In addition to its home website, Organic Originals sauces are also available online at the popular site http://www.armadillopepper.com, and are already offered in two Southern California retail stores (the health food mecca Erewhon, in West Hollywood and the specialty shop Hot Licks in Long Beach) and several restaurants, among them local favorite Bear Flag Fish Company, where customers have actually walked out upon learning that their beloved Organic Originals hot sauce was temporarily out of stock.
Why the unprecedented success?
"It's all about the taste," says co-founder George Ball. "Which comes straight from the quality of the ingredients. We use hydroponically-grown organic peppers from all over the world, hand-picked vine-ripened tomatoes, organic agave and fruit juices, sea salt and other spices … but no preservatives, ever. And our sauces aren't 90% vinegar, as are many others on the market."
Also, they don't kill your palate. "Although they're plenty spicy, the bottom line is how they enhance food," adds co-founder DeeDee Rescher Ball (who also, as DeeDee Rescher, happens to be a successful film and TV actress in her other day job – check her out at http://www.IMBD.com). "Our sauces are amazingly versatile – they really are scrumptious on everything you put them on, from fish to chicken to beef to vegetables to sauces, marinades and salad dressings. People are always telling us about another new and wonderful way to use them. One of our devoted customers even loves using Pura Vida, our signature sauce, on chocolate pudding. I kid you not!"
Organic Originals' four delectable flavors are:
Pura Vida (or 'Pure Life'): the company's original flavor, a blend of jalapeno and habanero peppers, sweet onions, organic blue agave, lush tomatoes and secret spices.
Femme Fatalii: made with the legendary golden fatalii pepper from central Africa, along with organic pineapple and orange juice and unique spices that make it the best thing that ever happened to fish.
Hotte Chocolatte: using the delectable chocolate habanero, is spicy-hot, made with organic chocolate and sweet cherries. Akin to mole--rich, smoky and addictive.
Fantasma: the hottest pepper in the world, the mythic Ghost Pepper, or Bhut Jolokia, from northeastern India, blended with a unique recipe of organic juices. Muy caliente and utterly mouth watering.
About Organic Originals, LLC: "Papa Georgio and Gramma Dee" started growing and harvesting organic tomatoes, peppers and sweet Maui onions in their garden in Long Beach, California several years ago. Soon they needed creative ways to use their ever-increasing crops of this delicious home-grown produce, and hot chili sauce seemed like the perfect match. Through the years Papa Georgio created and tweaked dozens of different recipes, growing and testing a growing array of peppers from all over the world. When the results were taste-tested on friends and family the response was so overwhelming that eventually Papa Georgio decided to semi-retire his boat business and get serious about selling hot sauce to the public. These days, having long outgrown their kitchen garden, they have their exotic varieties of peppers grown for them at an organic hydroponic farm in San Diego, California.
As a company, Organic Originals is unique for another reason: its charitable heart. Years ago on a Latin American trip DeeDee and George visited a wildlife sanctuary called Fundacion Santuario Silvestre de Osa (http://www.osawildlife.org), a non-profit organization wholly committed to providing rehabilitation for orphaned, injured and displaced animals indigenous to the southern zone of the Costa Rican jungle. Permanently touched by the poignant stories of these endangered creatures, they've pledged that a percentage of proceeds from every bottle of Organic Originals Chili Sauce will go to the Silvestre Sanctuary.
Interested readers can email organicoriginals (at) gmail (dot) com to get a subscription to Organic Originals' hilarious newsletter, "The Daily Newspepper" which is in fact not daily but more like every other month. In it you will find updates on all activities along with the latest installment of the comic adventures of the Eddie Bueno, the company's irreverent pepper mascot.
To try Organic Originals' mouthwatering sauces for yourself, visit them online at http://www.organicoriginals.org. For wholesale pricing and terms, retailers and distributors can call the company at (562) 708-1863 or email DeeDee and George at organicoriginals (at) gmail (dot) com.
Media Contact:
Suzanne Ford
(323) 465-2679
or DeeDee Rescher Ball
(562) 708-1863
organicoriginals (at) gmail (dot) com
http://www.organicoriginals.org
###