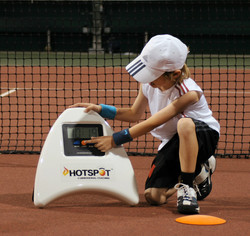 It is great to see all levels of sport fully embrace the HotSpot® training philosophy to develop the next generation of sporting stars
(PRWeb UK) September 21, 2010
The truly unique HotSpot® system consists of touch sensitive; Wi-Fi enabled remote spots or pods that communicate directly with a unique base station. The athlete activates the remote spots by applying pressure and the time is instantly registered on the base station. The system can be incorporated into any imaginable movement drill with emphasis on developing technique, speed and agility. With the ability to significantly improve technical efficiency, speed and agility through accurate data capture, the HotSpot® can be adapted to further develop athletes competing at any sport and at any level.
The HotSpot® originally launched in October 2009, has become an instant global success and is now being actively used in over ten countries worldwide including the USA, Germany, Spain and the UK by internationally recognised organisations including the English Premier League team, Blackburn Rovers and the Lawn Tennis Association (LTA). They are already reaping the rewards from using the HotSpot® to individually tailor athletes training programmes and measure performance.
Games Education Founder, and Design and Innovation Director, Mike Crooks said: "It is great to see all levels of sport fully embrace the HotSpot® training philosophy to develop the next generation of sporting stars. It is becoming a firm favourite, helping to inject fun and competitiveness into training."
Dr Fraser Harban, children's specialist doctor and Games Education's Commercial Director added: "It is recognised that a major factor in performance ability is how the brain learns patterns of movements which it then uses to develop specific motor programmes. Using the HotSpot® facilitates this brain training which enables athletes at all levels to enhance their performance"
The LTA are currently in the process of incorporating HotSpot® technology into their mini-tennis talent identification programme. With the aid of this exceptionally adaptable product the LTA will shortly be able to identify more effectively, talented children between the ages of six and 10 as the tennis stars of the future.
HotSpot® has also been firmly integrated into schools across the UK and is being actively used within physical education programmes to develop students' mental and physical aptitude through fun and engaging movement drills.
The HotSpot® training system is extremely flexible and allows accurate data capture to occur across all sports over infinite activities. The HotSpot® capabilities are only restricted by the imagination and creativity of the coach and athlete.
Social Media Links:
http://www.twitter.com/HotSpot3DCoach
http://www.youtube.com/GELCrooks
###