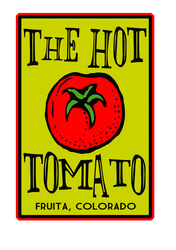 You'll see us with loads of produce on Saturdays that's been trucked in a mere two miles.
Fruita, CO (Vocus) May 7, 2010
The Hot Tomato Café in Fruita, Colo., is serving up its delicious handmade pizza and spunky attitude much to the delight of the community's residents and those who come to the area for world-class cycling. Four years into business, Hot Tomato Café closed for 10 months so it could relocate. Now its hot pies are once again satisfying the most eclectic of appetites.
Opening up the Hot Tomato Café in the midst of the mountain biking Mecca was the perfect fit for owners Jen Zeuner and Anne Keller. Zeuner followed the national and international mountain biking circuits, racing both downhill and dual slalom. Keller is an avid mountain biker and a photographer, whose work has appeared in a number of biking magazines, including the March cover shot of Bike magazine. Both had worked at a Fruita bicycle shop and were constantly asked by cyclists about a good local restaurant; there wasn't much available.
"We decided to combine our love for biking and good, healthy food to meet the community's obvious demand for a great restaurant," Keller said. "We've created an establishment where cyclist, farmers and business folks hang out over a hot pie."
Because of the instant success of their new restaurant, Zeuner and Keller believe the decision not to renew the lease on their previous space was the best decision they could have made. Zeuner said, "We've been able to double our space and really put our personalities into the establishment."
The personalities of the owners are apparent before walking into the restaurant. Keller is an accomplished artist and designed the look and feel of the restaurant from its delicious logo and website to the physical location's yellow exterior, bike art, bike gear inlayed tables and industrial feel.
THE FOOD
Besides being a fun place for cyclists and locals to hang out, the food is top-notch. All the food is handmade, from the hand-tossed dough to the pizza sauce and everything in between. When available, the restaurant uses local produce from the Fruita farmer's market.
"We can't get any fresher than the farmer's market," Keller said. "You'll see us with loads of produce on Saturdays that's been trucked in a mere two miles."
The menu favorite is Granny's Pesto Pizza, which is a simple pie with a pesto base, fresh tomato, garlic, mozzarella and feta cheese. The restaurant has a number of creative specialty pizzas and salads that can be served with wine or New Belgium beer.
About Hot Tomato Café
Jen Zeuner and Anne Keller moved to Fruita, Colo., in search of the laid-back lifestyle and mountain biking adventures they craved. Working at a bike shop for a few years, they saw the need for a great, local restaurant. Jen, hailing from New Jersey, knew how to throw a pie, and Anne, coming from Seattle, was willing to learn Jen's East Coast pizza-making ways. Together they established Hot Tomato Café. Now the restaurant, which is in the middle of world-class mountain biking country, serves hot pies, salads, beer and wine with a healthy dose of personality. To learn more about Hot Tomato Café and to salivate over the menu, visit http://www.hottomatocafe.com.
For more information contact:
Elaine Matthews, Account Manager
Ryan, Sawyer & Whitney
970-241-4773
# # #