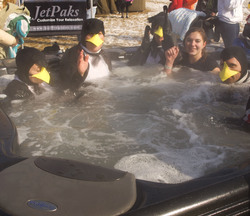 Having the spa here and available makes a big difference,
Salt Lake City, UT (PRWEB) March 11, 2010
Bullfrog International, makers of Bullfrog Spas portable hot tubs, recently sponsored the Polar Plunge, located at Pelican Bay Marina in Saratoga Springs, Utah and hosted by the Saratoga Police Department. Bullfrog provided a working Bullfrog Spa so participants could warm up after diving into icy water. Both individual participants and teams received donations to jump into a frigid lake and the event helped to raise approximately $14,000 to benefit the Special Olympics of Utah.
Despite the wintery weather, the atmosphere at the event was very upbeat and carnival-like. Participants shouted the theme, "we're freazin' for a reason," and donned crazy outfits that ranged from Superman and Lois Lane to a team of penguins and a guy in a full suit and tie. Other sponsors donated free food and beverages to participants and onlookers and all participants received a Polar Plunge t-shirt to proudly wear as evidence of their brave feat.
Bullfrog Spas provided a model 552 spa, a larger party hot tub, to help participants to warm up after plunging into the freezing waters of Utah Lake. Approximately 12 inches of ice on the lake made chain saws and a backhoe necessary to create an open area of water. The air and water temperatures during the event were both around 34 degrees Fahrenheit causing a lot of teeth chatter as soaked participants raced to the bubbling spa to thaw and massage out their cramps and cold-seized muscles. The event attracted hundreds of jumpers and spectators in support of a great cause and the Bullfrog Spa was an especially big hit.
Polar Plunge organizers and representatives from the Special Olympics expressed their appreciation for Bullfrog's involvement in the event. "Having the hot tub here and available makes a big difference," said event organizer, Sergeant Kerry Cole of the Saratoga Springs Police Department.
For more information on Polar Plunge events and the Utah Special Olympics visit http://www.sout.org. For more information on Bullfrog Spas visit http://www.bullfrogspas.com.
###