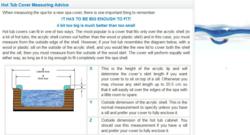 custom hot tub covers
(PRWEB UK) 28 June 2013
Splash Spas UK Ltd has recently added to an already extensive manufacturing portfolio, with a new and totally unique processing plant. It is designed to facilitate hot tub owners, retailers and sellers to purchase a custom modeled hot tub cover to their exact specifications. These custom hot tubs covers are economically priced, with a durable solid lid providing protection and insulation. All of this is of course delivered on specification to the nominated address.
As with all products from Splash Spas, the tailored manufacturing services are available through the Splash Spas' retail website, as well as the trade website. Support and guidance is available throughout the ordering process, ensuring the final product meets the exact requirements.
One of the disadvantages with ownership of hot tubs is the large energy costs associated with running and maintaining a hot tub. Therefore it is very important to use suitable hot tub covers to protect the spa, which is rigid whilst preventing much of the heat loss to the atmosphere. This helps minimise the costs of running a hot tub. However, over time hot tub covers tend to wear and become waterlogged, reducing the heat resistance and lowering the thermal efficiency. It will therefore become ineffective and no longer efficient at the job that it is employed to do. Generally a hot tub cover will last around 5 years before it will get to this state. Once this happens it is vitally important to replace the cover with a new one. This new cover should be tailor made to suit the exact dimensions of the hot tub it is designed to protect.
Splash Spas has a simple easy to understand and use custom hot tub cover ordering system via the Splash Spas retail, trade and hot tub chemicals website(s). After completing a simple online form that guides the customer through all the specifications required for the custom cover shape and dimensions, along with any specific fittings that are required. This is then dispatched to the manufacturing team based in the UK, who will expertly produce this tailor made hot tub cover. The total time from placing an order to home delivery is only 6 weeks.
Splash Spas are a key manufacturer in the field of custom hot tub covers, using materials of superior quality, preventing de-lamination or osmosis issues. The resulting product will not only be attractive but easy to clean and UV stable.
Customers who visit Splash Spas online shop will see a full explanation of the replacement cover ordering process, plus its features and benefits.