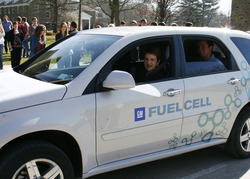 The realization is that every problem has multiple solutions and we must work as a team to discover the solutions. We have been challenged throughout the process – how many students have that opportunity as a freshman?
Houghton, NY (Vocus) March 20, 2010
The focus of the Houghton College Science Honors Program for 2009-2010 is alternative energy sources for transportation. What will we do when the oil runs out? While students have tackled this question throughout the year, it took center stage on campus when representatives from GM's Fuel Cell team visited the college with their Chevrolet Equinox fuel cell electric vehicle on March 18, 2010.
During this academic year, Houghton College students have designed and constructed working prototype vehicles that run on an alternative fuel source, experimented with techniques for producing the required fuel, and analyzed the environmental and economic concerns related to their design. The students have developed four prototype vehicles for use on campus that operate by using some form of alternative energy source – solar energy, ethanol, fuel cell or biodiesel. The best design would maximize range, acceleration, top speed and comfort while minimizing overall cost and negative environmental effects. Along the way, students have learned in workshop-type class sessions about topics ranging from bioengineering to chemical electronegativity to thermodynamic efficiency.
GM's Fuel Cell Team stopped by to share their insights on alternative fuel strategies and to discuss the technologies behind the Chevrolet Equinox fuel cell electric vehicle. In September 2009, these electric vehicles surpassed one million miles of gasoline and tailpipe pollution-free driving. More than 50,000 gallons of gasoline were saved in the fuel cell Equinox, a vehicle run on electricity created by an on-board fuel cell stack – the only emissions being wisps of water and vapor. "Currently we have 115 of these vehicles in circulation driven by everyday customers," stated Daniel O'Connell, Director - Fuel Cell 101X Service, Support & Infrastructure at GM. "The feedback we have received from these drivers has been invaluable – allowing us to make changes and progress the technology. We're only four years from these vehicles becoming mainstream so we need to keep moving forward."
According to the GM fuel cell web site, "In the not too distant future, fuel cells will change how we live our everyday lives. They will power our vehicles, homes and office buildings more efficiently and with significantly less impact on the environment than fossil fuels. Fuel cell technology could end energy shortages and reduce reliance on imported oil. Before that day comes, however, four important challenges – hydrogen storage, cost reduction, durability, and infrastructure development – must be solved."
Houghton College students were impressed with the Equinox Fuel Cell vehicle and enjoyed the opportunity to test-drive it around campus. Students working on prototype vehicles for the Science Honors program were able to experience and appreciate the years of research and development needed to have a working vehicle that is road travelled and safety tested.
"I was impressed with the pick-up of the vehicle and the ease of increasing the speed," states Andrew Evans '13 (Casablanca, Morocco). "We're working on prototypes of a go-cart size while GM has been able to take their technology and apply it to a crossover size vehicle that has a trailer hitch. It is a practical vehicle for everyday use that can take the family camping and has ample space within."
"This is a smooth ride – I didn't notice the shifting of gears as we changed speed," remarked Stephen Trinidad '13 (Candor, NY). "The key for these types of vehicles succeeding will be to bring the cost down so that it can become affordable to the general consumer."
The students were inspired to continue their work on alternative energy vehicles. "This makes me hopeful," remarked Evans. "I'm specifically working on the fuel cell prototype team and our technology isn't quite there. Trying to get the equipment to talk to each other and function properly is a real challenge, so hearing from GM that they build all of their equipment from scratch for that very reason was gratifying and reassuring."
The bio-diesel prototype is close to running. "We have everything mounted and the bio-diesel fuel is made," commented Trinidad. He also confirmed that it did indeed emit french-fry fumes when running – expected considering that the fuel is made from oil provided by the college cafeteria.
For these Houghton College students, the experience with the GM team reinforced that the approach to learning through the Science Honors Program was on target. "We've been taught the technical elements within the classroom while also conducting a great deal of research on our own," stated Wesley Jones '13 (Rochester, NY). "The realization is that every problem has multiple solutions and we must work as a team to discover the solutions. We have been challenged throughout the process – how many students have that opportunity as a freshman?"
"We've been able to apply what we learned," commented Joshua Mertzlufft '13 (Lancaster, NY). "Even this test-drive has impacted our next steps in working on our own prototype vehicles."
Houghton College students in the Science Honors Program took part in a 45-minute presentation given by the GM team. The lecture-forum was followed by students test-driving the Chevrolet Equinox fuel cell electric vehicle on campus grounds.
Houghton College, founded in 1883, provides an academically challenging, Christ-centered education in the liberal arts and sciences to students from diverse traditions and economic backgrounds and equips them to lead and labor as scholar-servants in a changing world.
The college of 1,200 students is located in western New York, just 65 miles from Rochester and Buffalo. For more information, please visit http://www.houghton.edu
###