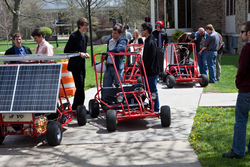 We can keep discussing which alternative energy source is best, but now is the time to act.
Houghton, NY (Vocus) April 29, 2010
A year-long research process was put into practical application as Houghton College Science Honors students tested their alternative energy vehicles. Surrounded by classmates, faculty, staff and family members, the students had the opportunity to show off their car for spectators and give a quick overview of vehicle features to the gathered audience.
The 21 students involved in the Science Honors program brought their vehicles out of the classroom and onto the sunny, albeit cold and snowy, sidewalks of campus. Representatives from each team – solar, ethanol, biodiesel and fuel cell – explained the development process behind their vehicle, the building costs involved, challenges faced and extolled the virtues of their particular energy source. The challenges ranged from flat tires to making their own fuel to mechanical issues and equipment failures.
"This was a year-long project that required the students to be involved in every aspect of making these cars work – from building all the components to supplying the fuel necessary to make them run," stated Mark Yuly, director of the Science Honors Program and chairman of the physics department. "We all learned a great deal about alternative energy through this experience."
All of the cars were successful in their runs down the sidewalks – some a bit faster than others, but all operational. While the hydrogen fuel cell vehicle ran at a leisurely pace of 10 mph, the ethanol vehicle was able to reach a maximum speed of 32 mph. Every team pointed to the reduced environmental impact these vehicles would have on society and encouraged action on behalf of those in attendance. "We can keep discussing which alternative energy source is best, but now is the time to act," remarked Stephen Trinidad '13 of the biodiesel team.
The Houghton College Science Honors Program offers an innovative problem-driven curriculum that takes an interdisciplinary approach to solving important real-world problems – something that in today's world requires both technical scientific know-how and a deep understanding of context. The flagship of the program, the Science Honors course, immerses students in the study of a difficult scientific and societal problem, one that requires all of their passion, skills and knowledge to solve. This course, which is team taught by a biologist, a chemist, a physicist, a writing professor and a communications professor, is driven and unified by the study of a significant real-world problem.
This year, students in the Science Honors program focused their research on alternative energy sources for transportation. Students designed and constructed working prototype vehicles that ran on alternative fuel sources, while also experimenting with techniques for producing fuel and analyzing the environmental and economic concerns related to their design.
The program generated a great deal of support on campus, as evidenced by the large gathering of spectators surrounding the students and their vehicles. Passionate about their chosen alternative fuel source, the students were able to research a real-life challenge through hands-on experience and articulate their findings to a wider audience. The first Car Rally on the Quad was a success and we thank all those involved for sharing the experience.
Houghton College, founded in 1883, provides an academically challenging, Christ-centered education in the liberal arts and sciences to students from diverse traditions and economic backgrounds and equips them to lead and labor as scholar-servants in a changing world. The college of 1,200 students is located in western New York, just 65 miles from Rochester and Buffalo. For more information, please visit http://www.houghton.edu .
Contact:
Sharon Myers
Director of Public Relations
Ph: 585.567.9559 / Cell: 716.903.9063
sharon.myers(at)houghton(dot)edu
###