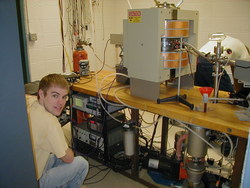 Over the last few years, Houghton students have hand-constructed one of only two or three working mini cyclotrons in the world. This conference is a chance for our team to share their knowledge with others around the world.
Houghton, NY (Vocus) April 20, 2010
Science takes center stage on April 24, 2010 as Houghton College welcomes visitors from around the United States to the very first mini-cyclotron conference. The conference will be held at the college and will welcome scientists and students from Rutgers, Caltech, the University of Maryland, SLAC National Accelerator Laboratory, the National Superconducting Cyclotron Laboratory, and several engineering companies.
Many enthusiasts of physics, engineering, and electronics have dreamt of building their own cyclotron. While many have had hopes of constructing one, only a handful have succeeded in achieving this goal by themselves on a limited budget. With the first annual Small Cyclotron Conference, they are getting together to share their experiences and ideas. Speakers at the conference include Heidi Baumgartner – a high school student building a small cyclotron with the help of scientists from the Thomas Jefferson National Accelerator Facility; Tim Koeth and Tim Ponter – Rutgers Cyclotron; Mark Yuly – Houghton Cyclotron; Raymond Jimenez – Caltech; Jeff C. Smith – SLAC National Accelerator Laboratory, Albert Swank and Fred Niell.
The cyclotron was first conceived by Ernest Lawrence in 1929 as an ingenious way to accelerate particles without using high voltages. The first cyclotron was a small one, less than five inches in diameter, built in 1932 by Lawrence's graduate student, M. Stanley Livingston. Cyclotrons quickly grew in size, since the larger the cyclotron the higher the energy that can be delivered. Today, cyclotrons are primarily used for nuclear physics research, the production of radioisotopes, and for radiation therapy. In fact, most existing large cyclotrons are in hospitals. The Houghton College cyclotron is a miniature cyclotron based on Livingston's original design. The cyclotron has been designed so that it can be controlled remotely using the internet – the operators usually sit in another room monitoring and controlling the experiment.
Each year, a number of Houghton College Physics students spend their summer working on nuclear physics experiments with Houghton Professor Mark Yuly at the Los Alamos Neutron Science Center, part of Los Alamos National Laboratory. Their research uses the half-mile long Clinton P. Anderson linear accelerator, one of the most powerful proton accelerators in the world. Linear accelerators are used for science from nuclear reactions to the 3D structure of bio-molecules. How do you prepare to work with such world-class tools when you are studying at a small liberal arts school? You start by understanding the principles of operation of the large-scale machine on a small scale. One way you can do that is to build a mini cyclotron, a machine that actually fits in a laboratory of normal size and doesn't require millions of dollars in federal funding.
"Over the last few years, Houghton students have hand-constructed one of only two or three working mini cyclotrons in the world. This conference is a celebration of that success and is a chance for our team to share their knowledge with others around the world," remarks Keith Horn, Associate Dean of Natural Sciences and Mathematics. "I think it is awesome that Houghton is hosting this conference. It will bring together researchers and students who have built, or are building or are just considering building a mini cyclotron. They will share their experiences, frustrations and successes and will discuss how these small-scale models of world-class large machines can be used to educate the next generation of physicists.
The cyclotron project at Houghton has been underway since about 2001, and has resulted in five undergraduate theses. This project is in many ways the perfect culmination to the physics curriculum because it draws together so many of the topics the students have studied into one applied problem – students get practical experience with electric and magnetic fields, digital and analog electronics, nuclear physics, quantum mechanics, computer programming, machine shop, vacuum systems and even plumbing.
Houghton College is excited to host the very first conference on mini-cyclotrons, which will take place at Houghton College on April 24, 2010. If you are interested in attending the conference or wish to learn more information about the day's events – please visit http://www.cyclotronconference.org.
Houghton College, founded in 1883, provides an academically challenging, Christ-centered education in the liberal arts and sciences to students from diverse traditions and economic backgrounds and equips them to lead and labor as scholar-servants in a changing
world.
The college of 1,200 students is located in western New York, just 65 miles from Rochester and Buffalo. For more information, please visit http://www.houghton.edu.
Contact:
Sharon Myers, Director of Public Relations
PH: 585.567.9559 / CELL: 716.903.9063
###