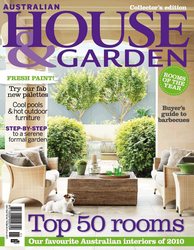 This is the seventh Top 50 Rooms issue for Australian House & Garden
(Vocus) October 28, 2010
Australian design, decoration, gardening and renovation are the foundation of Australian House & Garden, a magazine of inspirational tips and tricks for the modern home and the Australians who aspire to own, maintain and display them.
Australian House & Garden is the authoritative guide for inspiration on the building, renovation and decoration of the home. It is available via subscription at magshop.com.au, the one-stop source for magazine subscription, books, gift ideas and more.
"This is the seventh Top 50 Rooms issue for Australian House & Garden," writes Editor-in-chief Lisa Green in her enthusiastic introduction. "Not only do you get to ogle 60 pages of gorgeous rooms, you can vote online for your favourite. Emerging trends? The 2010 line-up highlights the increasing sophistication of the outdoor room, the return of serious decorating and some fabulous floor-to-ceiling book nooks."
The section was assembled over a period of many months, and involved sifting through recommendations from contributors across the country. Former Associate Editor Chris Pearson managed the task, learning along the way that "decorating with a personal touch is finding favour, layering styles and eras. My favourite?" Hint: it mixes and matches classic and vintage elements.
One Hundred Per Cent Australian Homes
Stepping out of the top 50 rooms, House & Garden Magazine splashes out for a selection of uniquely Australian colour palettes guaranteed to brighten anyone's world. From hothouse botanicals to subdued earth tones, the eye-catching schemes are followed by practical hints to get the most out of any brush with interior painting.
The outside is just as important as indoors, so House & Garden profiles two Sydney-area formal gardens that take very different approaches to tranquility. Tips and tricks for flower and vegetable gardens round out the hands-on coverage.
Working in the soil deserves a dip in the pool. Dive into a special advice section with seven urban and suburban watery retreats featuring all-the-rage infinity, or wet, edges, dark coping and frameless fences for that floating-in-air look and feel.
There's even advice on accessorizing your alfresco pool party space, with a guide to hot outdoor furniture and cool, capable barbecues.
Curious how others have done it? Photo essays show what homeowners have done with apartments, family homes and beach houses around Australia.
Now That That's Done
Once your house becomes a home, it's time to showcase it by entertaining. House & Garden knows what you need, offering selections of homewares, appliances and accessories to make every house a home.
From shopping to chardonnay, food tips will help lay out the best feed for your hungry mob. A guide to healthy shopping is a good place to start, with seafood recipes for all tastes.
Once the guests are gone, tidy up and simplify with tricks for fixing up the home and assessments of what you have lying around might be worth. A selection of offers and promotions with the homeowner in mind round out an issue that lives up to the "collector's edition" title.
###