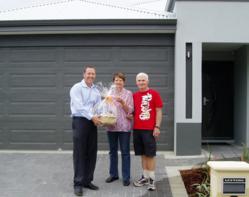 the Mandurah area is particularly attractive for people working in Perth's southern suburbs, first-home buyers, and down-sizers
Perth, Australia (PRWEB) November 08, 2011
The 4Land Property Group, known for its ability to identify trends in the Perth house and land market, has announced the release of a new Erskine, Mandurah land release -- Stage 4 of Natures Walk.
Spokesman for the Group, Project Sales Manager, Dave Gillon, says the expansion of this popular development reflects a growing optimism within the Perth property market, particularly in the city's southern corridor.
"We have found that the Mandurah area is particularly attractive for people working in Perth's southern suburbs, first-home buyers, and down-sizers." said Mr Gillon
For commuters, fast freeway and rail access to the city makes Mandurah land purchases a real alternative to other house and land packages Perth has to offer. Its affordability and lifestyle benefits, particularly for those wanting to gain a foothold in the Perth property market, have contributed to the well-planned growth of the area.
"There is little doubt that the nearby employment hubs of Kwinana and Rockingham have fuelled the growth of the area." said Mr Gillon. "And the established infrastructure in the Mandurah area is testament to the foresight of both the Western Australian and local government."
Nature's Walk Erskine
4Land Property Group has already released Stages 1 and 2 of the Natures Walk Estate, and the new Stage 4 consists of 16 lots. These Erskine Mandurah land lot sizes range from 287sqm to 379sqm, and homes are being constructed by 'Impressions The Home Builder'.
"Impressions has created clever yet practical designs for us, with a range of elevations from which to choose. The company has the backing of J-Corp, one of Australia's largest residential home building companies - and the team is young, enthusiastic and customer focused." explained Mr Gillon.
New residents, Keith and Joy Spencer, agree. After living in the same house in Embleton, Perth WA, for over 40 years, the Spencers have now moved into their home in Natures Walk in Erskine, Mandurah.
"After we visited the development, we found it was exactly what we wanted. The Estate is located in a secluded part of Erskine with easy access to all of the nature attractions of the area." said Keith. "It adjoins the Len Howard Reserve which is directly beside the Peel inlet and it is only minutes from the beach and the heart of Mandurah which is well provided with essential services and facilities for older Australians."
"Impressions Homes, which is building the house and land packages at the Estate, was able to devise a plan for our home which accommodated our special needs - such as housing our caravan. Overall we are delighted with the quality and standard of the house they constructed," said Mr Spencer.
At this early stage of the Stage 4 release of this Mandurah land, 4Land has already sold 5 lots. "Positive feedback has created word-of-mouth referrals - the Spencers were recommended by friends, and they, with our other residents, have become walking, talking testimonials."
For more details on this new option for buyers of house and land Perth packages, visit http://www.natureswalk.com.au
About Natures Walk
Natures Walk Erskine is a master planned estate that is in tune with the surrounding environment. Each carefully designed home compliments the natural bushland setting and ensures those lucky few, who secure a property in this prestigious estate, can continue to enjoy the open spaces and natural features this area has to offer.
Natures Walk Erskine is unique in that the integrity of the estate has been enhanced through design of all houses from the first to the last to provide a community where every home compliments its neighbour now and into the future.
Each of these high quality house and land packages can be completed to a turn key standard meaning all the hard work has been done the day you move in, leaving you to relax and enjoy the tranquil surrounds.
About 4Land Property Group
4Land Property Group creates unique and affordable communities in a range of locations across Western Australia. Their diverse selection of land options are carefully planned to suit varying lifestyles and budgets.
All of 4Land's estates are affordably priced to ensure that First Home Buyers are well-catered for as well as those looking to downsize or retire. They offer a wide range of lot sizes in much sought-after niche areas, North and South of the River.
For more information about 4Land Property Group's Mandurah land project at Natures Walk, Erskine, Mandurah, visit http://www.natureswalk.com.au
# # #