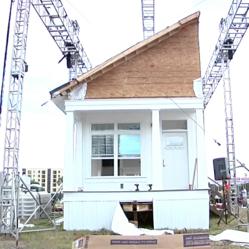 For nearly 25 years, we have seen the benefits when people remain in their homes: lives are improved and communities are revived. ~ Rebuilding Together
Minneapolis, MN (PRWEB) September 04, 2012
In the midst of the driving divide of politics, the House United Project sends a refreshing message that trumps the shameless pursuit of profit, two opposing political parties voluntarily built a symbol of unity – a home. Yesterday, Rebuilding Together of the Carolinas worked on the second half of the United House Project during the Democratic National Convention in Charlotte, North Carolina. The construction site, located at 510 S. College St., across from the convention center and between Tyron and College Streets, took place between 10 a.m. and 6 p.m.
One half of the 1,670-square-foot home was constructed in Tampa at the Republican National Convention last week. Republican delegates from New Jersey, Wisconsin, Alaska, Missouri and Washington D.C., found the experience more moving than anticipated. Comments from several participants echoed sentiment like, "why don't we just throw politics out the window and help an American veteran," and, "this was my biggest moment of the convention."
Destiny Homes concurs with Minnesota delegate Jettie Hill in her comment, "The symbolism to me, is that somethings in life are just so fundamental, that it is imperative of us to just put differences aside and just get the work down".
It happens every day: selfless individuals go out of their way to support our nation's wounded service members, like The Wounded Warrior Program - an organization whose broad appeal reaches across demographic, geographic, and political boundaries. The House United Project was just that, as opposing delegates agree that giving a home to a deserving military family is something powerful and worth doing. "Seeing a selfless message of unity, of home, of honoring, in the midst of an election is so inspiring", says Liz Sprenger, part owner of Destiny Homes.
On site leader Ty Penningnton of Extreme Makeover Home Edition, said, "There may be people that can't agree with anything. Then there is America. I have seen all walks of life who really put their life on hold. They volunteer for three hours and it ends up three days. It is really symbolic, this sort of uniting. Volunteers put their business and family life on hold for a week, and they make someone's life better."
"Supporting our veterans isn't about Republican or Democrat, right, left, red or blue," says Wisconsin Governor Scott Walker, who was on site in Tampa and helped install cabinet doors alongside other delegates. "It's really red, white, and blue."
Corporate sponsors Sears, Craftsman, Bank of America and Champion Home Builders, and nonprofits Heroes at Home and Rebuilding Together have been coordinating with the Democratic and Republican parties for months to pull off the united and well orchestrate home-building project. The groups of volunteers from each state had 45 minutes to work on the House United Project. The time was short, but the impact big. "I'd rather go for an hour and work and say I did something for these people," said Nevada delegate Richard.
For home builder Destiny Home, the beauty of the House United Project is seeing two half houses become one home. It is symbolic of what a home can be, the actual experience of separate lives joining under one roof, creating that one place you would rather be than anywhere else: home. Returning to the quiet and refreshment of home after a hard days work is something all American's should know. How much more returning home from the conflicts of war and sacrifice is important to our returning veterans.
A Charlotte area veteran family will be selected by Rebuilding Together and Sears Hero's At Home in October. With the two half's built, they will be joined shortly in the Belmont neighborhood of Charlotte, and the nation waits to see which veteran family is selected to live in it.
Contact Destiny Homes if you are a Minneapolis homeowner looking to build, remodel or renovate your home. Investing in "home" is a way to say family, relationships, and home life are important. Call 952-934-5706.