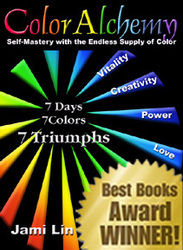 Using smoke from sacred plants or sprays made with organic essential oils alters the chemical composition of unseen energies and neutralized their negative influence.
Miami, FL (Vocus) September 26, 2009
In a three-part YouTube video, Faith Ranoli, seasoned home inspector, of Heart and Home radio show, and sought-out educator provides tips that sell houses. As part of the first-of-its-kind, International ColorAlchemy Web Conference, Jami Lin, best-selling author asks Ranoli how to harness the emotions of prospective buyers to say "YES." Additionally, Ranoli demonstrates three simple ways to neutralize home toxicities, and provides money-saving tips without sacrificing comfort or safety.
Part one introduces benefits of using a new coat of non-toxic paint in a fresh earth color to help make a house feel like home. "Color that is alive stimulates positive action and individualism as compared to the monotony of a vanilla, track house."
Part two discusses the emotion of buyers and sellers as the inspiration for smooth and happy negotiations. "The seller who mentally prepares the home as a sanctuary for the new buyer has a greater chance of closing a deal compared to one that is filled with worry or fear about making the next mortgage payment." "Feelings linger in an environment and are sensed by all who enter making an unconscious impression."
Positive environments start with neutralizing negativity and emotional toxicities with a house clearing. Ranoli says, "Experience a house clearing the same way you would a computer reboot or clean install. Everything is still there but there is a fresh start." House clearings can be done at any time: They are good for shifting residue from disagreements, releasing unwanted energy, returning a house to calm after the seven-year old's birthday party, or for just welcoming new opportunities.
Ranoli demonstrates three, quick and easy clearings in part three. To return a house to its natural electro-magnetic balance (that is inherent in the earth and what our bodies naturally are in harmony with), Ranoli reduces the potential for geopathic stress by providing the formula of Epson salts, alcohol and fire neutralize the toxic energies created from all the electrical equipment found in most homes.
If you can't safely clear by fire, Ranoli shares how clearings can be done with sound frequencies. "Quantum physics suggests that lower frequencies such as toxic energies are dissolved when higher frequencies are introduced." She demonstrates how using a tuning fork, calibrated with the highest octave of earth's frequency produces the highest, clearing frequency of sound.
The video ends with clearing techniques from Native American traditions using fire and white sage. "Using smoke from sacred plants or sprays made with organic essential oils alters the chemical composition of unseen energies and neutralized their negative influence." Because thought creates form, visualizing your intentions of having a receptive house to welcome the intended purpose adds to the strength of the clearing. If thoughts on welcoming a new buyer are believed in the mind, a buyer is more likely to come. When new opportunity is intended, the phone rings. When thoughts are calm and peaceful, home becomes a sacred, feel-good sanctuary.
For more complimentary space clearing, creating a home sanctuary, and hundreds of helpful tips, visit Feng-Shui-Inteior-Design.com or HeartandHomeHealing.com
About us
Jami Lin (JamiLin.com) is a 30-year veteran of interior design. Her expertise evolved into Feng Shui (http://www.feng-shui-interior-design.com/ ), international recognition as a master with six best-selling books, an online home-study certification program, and PBS-TV pilot. Color is her trademark and her new, award-winning ColorAlchemy book (ColorAlchemy.com) is heralded as, ''advanced thinking for infinite possibilities.''
Jami's media section provides valuable, tailor-made content using color therapy, Feng Shui, design, and youth-enhancing wellness in: Lifestyle/General Interest, Family/Children, Business Success, Home/Garden, Health: Body, Mind, Energy Medicine, Youth-Enhancing Secrets, and Human Spirit/Awareness.
Jami Lin is available for interviews.
Photographs available on request.
Media contact:
Joy Starr
941-276-8689
ColorAlchemy.com
###