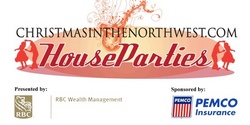 These parties give everyone the opportunity to enjoy the holidays with their friends and family, while at the same time raising money for the great Children's Hospitals in the Northwest
SEATTLE (PRWEB) December 2, 2008
Hosts are now being recruited for these holiday events to be held on Saturday Night, December 20th, in private homes across the Northwest. The goal for this first year's event is 300 holiday House Parties. Hosts and hostesses are urged to sign up online at http://www.christmasinthenorthwest.com.
"These parties give everyone the opportunity to enjoy the holidays with their friends and family, while at the same time raising money for the great Children's Hospitals in the Northwest," said Steve Lawson, Executive Producer. "The cool thing about the House Parties is that they'll all be fun and different, but they'll all be focused on helping kids."
House Parties have long been employed for political fundraising and grass-roots organizing. Christmas in the Northwest House Parties follow that model. Hosts and hostesses can create their own party page on the Christmas in the Northwest House Party website. Then, using the online tools provided, they set a fundraising goal for their party and invite family, friends, neighbors and colleagues to their home for the party. Invited guests can RSVP online and are asked, but not required, to make a donation to Children's Music Fund, which then disburses net proceeds (after expenses) to the Children's Hospital in the party hosts' city.
Guests of parties that raise a minimum $250 donation receive Christmas in the Northwest House Party goodie bags (while supplies last). And hosts and guests at the parties in Seattle and Portland that raise the most money will enjoy a live performance at their party by a top Northwest musician.
Children's Music Fund, Inc. is a Washington State 501 (c) (3) corporation whose purpose is to raise money for Northwest Children's hospitals through the sale of the Christmas in the Northwest CD series. For more information on Children's Music Fund and Christmas in the Northwest, visit http://www.christmasinthenorthwest.com.