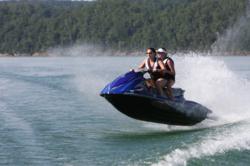 "This is a special place and once people experience it, they never forget it. Many come back year after year and many multi-generation families come to enjoy our lake."
Byrdstown, TN (PRWEB) June 22, 2011
Now that the spring flooding has receded, the water at Dale Hollow Lake is crystal clear and starting to warm up. Sunset Marina and Resort is ready to meet the demands of families or friends of all ages, sizes and levels of water-loving enthusiasts.
"The water temperature on the surface is 84 degrees; at six feet below the surface it is 81 degrees," said Melva Nunnery, Reservation Specialist at Sunset Marina and Resort (http://www.sunsetmarina.com) "This is the perfect time to book houseboats for the peak summer vacationing season."
Sunset Marina and Resort offers three different floor plans on their houseboats to accommodate all sizes of groups. The 74' Flagship has six bedrooms and two full baths, sleeping space and relaxation room for up to 12 guests, a fully-equipped kitchen, central air, VCR/DVD with Satellite TV, XM Satellite Radio, fly bridge with canopy top, water slide, hot tub and much more.
The 65' Mid-Size Cruiser is perfect for up to 10 guests. It has four private bedrooms, two baths with shared shower, fully-equipped kitchen, a pull out sofa, central air and water slide, and many of the same amenities as are on the Flagship.
The 50' Family Cruiser is just what a smaller family or group needs. It accommodates up to eight guests with three full bedrooms and a sofa sleeper, one full bath room, central air and a fully-equipped kitchen. All of the houseboats offer deluxe amenities to entertain families and groups for a weekend or a week on the lake.
Houseboat vacations are much more affordable than most people realize. When you divide the cost of a complete houseboat vacation by eight, ten, or twelve people, it is much more affordable than a far-away destination that requires air travel. Dale Hollow Lake is within a day's drive for nearly 75% of the U.S. population.
"The thing about the houseboats at Sunset Marina and Resort," said visiting guest Mylina Johnson, "is that they are so well maintained. They are always clean and everything is in excellent condition. You don't find that at every dock. If you do have a problem, they take care of it immediately to make your vacation the most enjoyable that is possible. We have been vacationing on Dale Hollow Lake since I was a child, more than 30 years, and we love Sunset Marina the best."
Sunset Marina and Resort also offers six floor plans of cabins and chalets providing a wide variety of vacation opportunities. Their boat slips, boat ramp, playground, full-service restaurant with Chef, fully stocked grocery and variety store and rental of pontoons, jet skis, ski boats, and water-toys round out this vacation destination to please everyone in the group. This year they even added the increasingly popular Paddle Boards to their rental fleet of watercraft. A new 30-pontoon is now available with a private toilet for those wanting to stay on the lake for a whole day without making trips to the shore.
"We see a number of groups and families that come here for special events, like family reunions or parties, and just this weekend a wedding took place on one of the private houseboats at our Marina," said Nunnery. "This is a special place and once people experience it, they never forget it. Many come back year after year and many multi-generation families come to enjoy our lake."
Dale Hollow Lake is located in north central Tennessee, with part of the lake being in Kentucky, and part in Tennessee. The 620-miles of shoreline and hundreds of coves and creeks offer a variety every time someone visits the lake. The slate and shale make-up of the shoreline and bottom of the lake keeps it crystal clear. It is not unusual to see scuba divers enjoying the water. Families can pull their boats near the shores with plenty of places to get out of the boat and enjoy nature. A variety of wildlife can be viewed at Dale Hollow Lake, and hiking enthusiasts enjoy the hills and forests to explore.
For more information about Sunset Marina and Resort, visit their web site at http://www.sunsetmarina.com
Contact information:
Tom Allen
931-864-3146
Patricia Stirnkorb
Write Words Media
513-860-0176
###