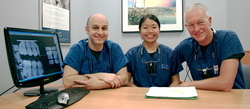 San Francisco, CA (PRWEB) August 18, 2009
In a society where expert medical care seems ever more elusive and impersonal, the last thing you might expect to find in San Francisco is a dental practice that makes house calls. But Bay Area House Call Dentists (BAHCD), based in San Francisco's Laurel Heights neighborhood, has built a thriving practice around visiting their patients where they live. And rather than serve the city's well-to-do, BAHCD specializes in helping some of the area's least-served populations: the elderly, the house-bound and the infirm. BAHCD is a service of the successful Blende Dental Group, headed by Dr. David Blende, an expert practitioner with over 20 years experience providing comprehensive dental care and a leader in the field of dental surgery.
"We serve not only people with disabilities, which is what people think of when they think of special needs," explains Dr. Cheryl Elacio, Director of both House Call Services and Geriatric Services for BAHCD, "but also people with severe phobias and complex medical conditions. Basically anyone who is not a good candidate for a traditional dental office for either physical, emotional or cognitive reasons."
BAHCD patients may include a child with autism, a senior with Alzheimer's disease, an obese or otherwise immobile individual or someone who's simply too scared to set foot in a dentist's office. These are people who regularly go without dental care, because their caretakers are unable to get them to a dentist, and because dental problems, unless accompanied by acute pain, often go diagnosed.
Efficient, skillful dental care in the home saves time and stress for patients and caregivers
During their house calls, BAHCD practitioners take x-rays, perform cleanings, identify gum disease, prescribe medicines, remove infected teeth, identify and sometimes fix poorly fitting dentures and determine effective courses for longer term comprehensive treatment where needed. Because of the flexible design of the equipment used, patients can be examined in their own favorite chair or even lying in bed. Not only can such treatment bring immediate relief, but it can also save the patient and his or her caretaker many subsequent, arduous trips out of the house.
"If a patient needs a lot of work requiring several specialists," says Dr. Blende, "he might have to visit one office after another. An endodontist's office for a root canal, a periodontist's office for gum surgery, a dentist to deal with decay. But when we do a house call, we're going to gather all the information we need to make a diagnosis and bring in members of our specialist team. So we've saved them, maybe, three or four appointments. If they need multiple cleanings, they're all done in the home. So a patient might go from leaving home for six or seven trips in a year to leaving home just once if they need treatment that must be done in our office or in a hospital."
That can save a lot of anxiety for a caregiver and can mean the difference between receiving or foregoing comprehensive dental care for someone who can't, or won't, leave their home without difficulty. If the patient needs treatment that cannot be done in the home, the BAHCD team handles the arrangements for the follow-up work at the BAHCD office or in a local hospital. That includes helping to get the patient to and from treatment, completing the work itself, and having a specialist on hand to keep the patient calm, comfortable and safe.
A top-notch, experienced dental team assures quality results for the most complicated procedures
Dr. Elacio and her BAHCD colleague, Dr. Samer Itani, perform many of the house calls. Once a patient is found to need hospital or in-office work, Dr. Blende frequently takes the helm in planning and providing this care. Especially important for children and phobic patients, Dr. Blende is one of the few dentists nationwide expert in using general anesthesia during dental procedures. Allowing a confused or frightened patient to sleep through dental surgery considerably reduces stress for all concerned.
And when their patients do need hospital attention, Dr Blende, who is Chief of the Division of Dentistry at Kaiser Permanente San Francisco and Chief of the Dental Division at California Pacific Medical Center, and Dr. Itani, Vice Chief of the Division of Dentistry at Kaiser Permanente San Francisco, are well positioned to make that happen quickly and smoothly.
Vital, hard-to-find care for seniors improves patients' overall health and quality of life
Increasingly over the past two years, the BAHCD team, including a staff of experienced and compassionate assistants, visits senior communities, where they may see up to 20 patients in an afternoon. The problem of undiagnosed dental issues is particularly acute in such communities, according to Doctor Itani. And those issues, he says, are much more dangerous to a patient's overall health than many people realize.
"We recently went to a community where we saw nineteen seniors," the doctor relates. "Several had been there for over a year, yet their caregivers weren't even aware they had partial dentures. So, clearly, those dentures weren't getting cleaned properly. That's when infection starts to set in, not to mention the obvious issue of discomfort. We might find broken teeth or gum disease. Lesions that can be a sign of oral cancer. And gum disease, which is quite dangerous because it breeds bacteria which gets into the blood stream, contributing to pneumonia, heart attacks and stroke. All these things have to be treated, but they often aren't. It's a crucial issue for the elderly, not just for their daily comfort but for their overall health."
In fact, Bay Area House Call Dentist teams frequently receives referrals from other dentists who despair of getting their elderly or infirm patients in for office visits, and turn to the BAHCD's in-house treatment capabilities as the best answer.
"House calls are not easy," says Dr. Itani, "but we firmly believe that everybody can have, and everybody deserves, the best possible care."
A success story for patient and caregiver
Minerva Dutra, of Petaluma, California, is more than convinced. Ms. Dutra's 76-year-old mother, Delores Dawson, has Alzheimer's disease and is confined to a wheel-chair and lives in a Petaluma residential care home. Ms. Dawson recently received at-home care from BAHCD, followed by surgery performed by Dr. Blende.
"My mother has specific needs, and other dentists weren't able to accommodate her," Ms. Dutra says. "I was very happy to have a dentist come to us instead of my having to drive my mom all around. The doctor who came to our home, Dr. Elacio, and her assistant were sweet, caring and extremely skillful. When it was time for the surgery, Dr. Blende was fantastic, always letting me know what was going on and taking extra steps to be sure my mom was comfortable. I had all the confidence in the world in him. Now my mom feels much better. It's a great relief."
A father's inspiration drives a career and a passion for care giving
The inspiration for BAHCD springs from David Blende's childhood. His father was a doctor in a wilderness area near the Canadian border, and as a young man Blende often went along on his father's house calls.
"It was the old picture you have in your mind," Dr. Blende recalls with relish. "He had a black bag and a flashlight for finding addresses and street signs. He would go out in the snow and he would deliver babies if he had to. He would comfort the dying if he had to. That how doctors were in those days. So I know all about house calls from a very young age. It was an exciting thing for me, and that stuck."
Through their unique brand of dentistry, BAHCD not only helps solve dental problems for people who might otherwise never have those problems addressed, they make significant contributions to those patients' overall health and quality of life. They perform a unique and vital service with great compassion and dedication.
About Bay Area House Call Dentists
The Bay Area House Call Dentists team is committed to removing every barrier to expert dental care. Bay Area House Call Dentists is a division of the Blende Dental Group, a private practice that has been treating patients with special needs, disabilities, complex medical conditions and severe phobias for more than 20 years.
For more information about Bay Area House Call Dentists, please contact Amanda White, Practice Manager, at (800) 395-1152 ext 800 or amanda@bahcd.com, or visit http://www.bahcd.com.
###