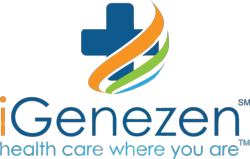 "iGenezen converts any space into a fully-equipped exam room via an online scheduling platform that brings providers together with patients in a place of convenience."
New York, New York (PRWEB) December 18, 2012
iGenezen, a health care technology start-up, is the first brand to deliver next-generation house call providers direct to individual consumers, employers, and the places they do business. Since the dawn of medicine, where patients have been treated for primary health care needs has changed just twice - from the home, to the medical office. Today, health care delivery is on the brink of the next great shift: back to the "home".
According to the Centers for Disease Control and Prevention there are an estimated 1.3 billion patient visits annually to physician offices, outpatient departments and emergency rooms in the United States. Approximately 86% were general primary care visits, yet only 0.4% of these visits were performed in the home. House call consumers will benefit from uninterrupted productivity, convenience and improved health outcomes.
The Milken Institute reports that small businesses experience lost economic productivity from absenteeism and presenteeism to the tune of approximately $1 trillion annually in the US. Lost work and output due to sick days reduced GDP by 10%. Employers are straining under the financial burden of health care coverage and much of the increased costs are due to unnecessary ER visits.
"An immense opportunity has risen to resurrect the 'house call'. iGenezen is a house call provider network that allows patients to schedule a house call to their home, office, hotel, or wherever they are," said Landon Cole, iGenezen's CEO. "Leveraging technological advancements, a network of health care professionals and intelligent patient insight, iGenezen is organizing a movement to change the way this generation thinks about their health care."
Since patients are seen in the comfort of their own selected surroundings they are more at ease during exams, not contracting illnesses from other patients, and get quicker response times than going to an emergency room or doctor office.
"The moments in our lives are the most precious asset we have. Yet, when it comes to our health care, most people blindly accept the status quo: make a doctor appointment, take time off work, fight traffic commuting, and hope for a short wait in the waiting room, all the while susceptible to other's illnesses." explains Cole. "iGenezen converts any space into a fully-equipped exam room via an online scheduling platform that brings providers together with patients in a place of convenience."
iGenezen (http://www.igenezen.com) began offering the world's first online scheduling platform for medical house calls in December 2012 to Manhattan with plans to expand nationally in 2013. iGenezen is all the luxury of having an on-call concierge health care provider without the expense or hassle of locating one.