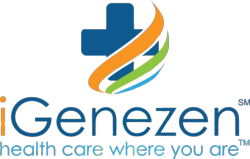 iGenezen has perfected the online scheduling model for health care delivery.
New York, New York (PRWEB) December 28, 2012
iGenezen, the only service of its kind, allows patients to schedule a personalized primary care house call to their home, office, or wherever they are, at their convenience. With the announcement of their alpha launch in Manhattan, iGenezen is poised to lead the wide-scale revival of the most cherished medical traditions from years past, the house call.
iGenezen, whose mantra is 'health care where you are', is a free service that gives patients access to a whole host of primary care services and works with primary care health care providers to market their services via an easy to use online and mobile scheduling platform.
Who are the providers that perform the 'house call'? iGenezen answers this question for you. With their mobile application that is due to launch in early 2013, users' type in their address and the page displays every provider that delivers house calls to that location, with the services, available appointment times, and reviews.
Despite a stagnate economy, the Manhattan-based start-up is determined to change the way this generation thinks about their health care. iGenezen's online service is also helping drive more profits directly to health care providers and save costs to employers that are working with the company.
"Health care providers are providing cutting edge health care, but many lack the resources to expand their reach, decrease expenditures, or to promote themselves on the Internet," said Landon Cole, iGenezen co-founder and CEO. "That's where iGenezen delivers."
Dr. Anthony Geraci, owner of a Manhattan-based neurology practice called neurOasis, said partnering with iGenezen is a win-win situation for his business.
"iGenezen has perfected the online scheduling model for health care delivery," said Dr. Geraci. "I expect steady growth of my practice this year from our partnership."
All first-time iGenezen users receive a free annual physical exam on their first house call and they are presently recruiting qualified primary care clinicians to join their expanding network.
About iGenezen: iGenezen, Inc. was launched in December 2012 by New York-based entrepreneurs Landon Cole and Southern California-based A.J. Miller. Frustrated by long waits in waiting rooms and wasted time commuting to and from their physician's office they created the world's first online and mobile scheduling platform to resurrect the house call.
For more information or to discover who provides house calls in Manhattan, go to iGenezen.com.