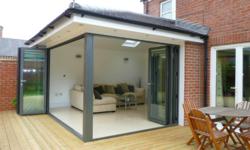 House Extension Online, a highly respected home improvement website with a ten-year pedigree, has been re-launched with added content, new sections and a completely new appearance.
(PRWEB UK) 2 May 2013
House Extension Online, a highly respected home improvement website with a ten-year pedigree, has been re-launched with added content, new sections and a completely new appearance. The refurbishment is the work of internet marketing specialists Styles Creative, who have made a specialty in recent years of working with top home and garden brands.
More than just a lick of paint, the redesign of House Extension Online features added content, plus a members' forum. The original website, which over the last ten years has grown into a valued and trusted resource, contained useful information covering all of the aspects of getting a house extension - explaining everything from planning permission and building regulations to finance and insurance issues. The new website keeps the majority of the original information and extends it much further. Encouraging property owners to make more of their existing home, the website is now a one-stop shop for anyone with an interest in house extensions and all related topics.
The House Extension Online editorial team has worked closely with professionals in the field of home improvements and house building to create new, up to the minute content. All of the information has been updated so that prices, links and contact details are accurate for 2013, and many more sections have been added. With features on renewable energy technologies, conservatories, kitchen extensions, loft, garage and basement conversions, plus windows and doors, the website has become a comprehensive guide to every aspect of the house extension process, giving homeowners all of the information they could possibly need in an accessible and easy to navigate new website.
One of the most useful things for someone who is considering taking the plunge and getting a new house extension is to learn about other peoples' experiences. As well as detailed case studies of real life house extension projects, there is also a forum in which members can ask questions of others in their situation, as well as experts.
In addition to providing information from both professionals and peers, the new look House Extension Online features a blog which is regularly updated with helpful articles and lively features covering topics related to the wider fields of home improvement, sustainable energy and interior design, as well as house extension news and issues. Visitors to the site can keep up to date with all of the latest developments by following House Extension Online on any of the major social media platforms, including Facebook and Twitter.
The original website had grown organically over the last ten years, and much of its content was difficult to access. The new look House Extension Online, as well as having an improved and attractive appearance, has been designed so that its navigation is intuitive, with content placed so that it is easily located.
To complete the comprehensive offering of information useful to anyone who is in the process of, or thinking about getting, a house extension, House Extension Online will soon be adding a Supplier Directory to the home improvement portal. Companies wishing to be included in this growing list of builders and suppliers of products and services connected with house extensions can choose either a basic listing, or a full company profile with greater visibility.
With so much added to the existing content of Home Extension Online, and with a great new look and navigation, the website has succeeded in doing exactly what its users hope to achieve with their own homes: make something good, even better.