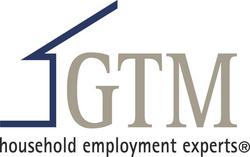 The National payroll companies do not customize their service for household employers
Clifton Park, New York (PRWEB) October 4, 2007
GTM Payroll Services, the leader in household and nanny payroll tax services has acquired the assets and clients of Paperwork Pro, http://www.paperworkpro.com, a West Virginia based provider of nanny tax services. The transaction was completed in September 2007 with Paperwork Pro's household payroll clients being converted to GTM Household Employment Experts' payroll platform.
GTM's continued growth strategy includes acquiring household or nanny tax payroll accounts from CPA firms, tax accountants, and payroll service bureaus that have been providing this specialized type of household service. "The National payroll companies do not customize their service for household employers" stated Guy Maddalone, CEO, household payroll requires specialized tax accounting, reporting, and HR expertise to help families balance their work-life needs. "GTM has built a suite of household payroll products and services that are available at http://www.gtm.com. Our clients love the EasyPay® offering and as a result we are always adding to our client base by looking for smaller providers of nanny taxes, who do this more as a favor to clients rather than as a core product offering."
The household and nanny payroll market is a challenge for most payroll services due to the limited volume of transactions; typically the employer is a family or an estate and will only need service seasonally or for a limited period of time as compared to a business that is required to run payroll every pay period during the year.
GTM is the original Nanny Tax Service in the United States, offering household and homecare payroll services, household HR services, and its' resource book HOW TO HIRE A NANNY. The company also offers business payroll services in addition to work-life services under the premium brands, Tech Valley Payroll, A New England Nanny, GTM Household Employment Experts, and Pinch Hitter back-up dependent care.
About GTM Payroll Services
GTM is an INC. 5000 Company headquartered in Clifton Park, New York. GTM provides business payroll services, human resource services, and web-based payroll and tax applications to thousands of clients, including small businesses, households, nanny placement agencies and corporations. For more information, visit their website at http://www.gtm.com.
###