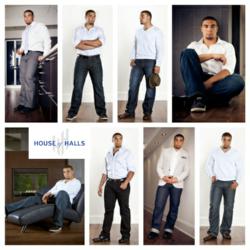 This demographic in men's fashion has been ignored by designers for far too long. House of Halls is first to introduce a stylish, high-end premium denim brand that men have been waiting for. - Maurice Malone, "Steve Jobs of Denim" (Brooklyn Magazine)
New York, NY (PRWEB) July 24, 2012
Not all men are created equal. Some are made to be more. No one knows that better than House of Halls (http://www.houseofhalls.com), a new brand aiming to change the game for men who want high style, premium denim in sizes 36 to 46.
"House of Halls is a brand of premium denim for men who demand excellent styling and strong attention to detail yet whose grandeur isn't confined to their personality," said Aimee Deziel, CEO of House of Halls.
The company was started by Deziel, a self-driven entrepreneur and fashion-conscious female who quickly grew tired of watching her own man of stature dress in clothes that were ill-fitted, poor quality and lacking style.
"I would try and go shopping for him and couldn't believe the lack of options," said Deziel. "It became apparent to me pretty quickly that there was a huge gap in the marketplace for men who wanted to look good and had money to spend but no where to spend it."
Enlisting the help of well-known fashion designer Maurice Malone, Deziel lead the vision while Malone provided his 18 years of expertise in design and men's styling. Malone has been in the industry since 1984 and has built a solid name for himself designing men's clothing, becoming more successful with each collection.
"This demographic in men's fashion has been ignored by designers for far too long," said Maurice Malone. "Currently, these men have no choice for high-end designer brands and have been waiting for something stylish, modern and updated like this."
House of Halls premium denim is made with only the best materials. Every detail and design feature has been carefully thought out with style and comfort at top-of-mind. The first collection is designed to give men more confidence and more options. They're cut to compliment body shape and enhance individuality.
The first collection features 3 unique styles including a dedicated selvedge style, all in various wash options:
Trusted
Comfortable denim with the two-button waist is a fresh take on a respected classic. Cut to fit in on Monday morning, Friday night and Sunday afternoon. (Washes: Essential, Benchmark & Universal)
Cultured
Hardwearing selvedge denim created to exceed your expectations. Wears perfectly at lunch hour, cocktail hour and into the morning hours. (Washes: Icon & Urban)
Accomplished
Exceptionally designed because presentation is an essential part of one's success. Works flawlessly in the boardroom, your dining room and every important room you step into. (Washes: Mettle, Reign & Insignia)
Visit http://www.houseofhalls.com to see the next big thing in premium denim for the next size segment in men's clothing.
About House of Halls
House of Halls is proud to bring men of stature a North American collaboration of vision and design with their first collection of premium denim. Started by a fashion-conscious female who was tired of watching her man of stature dress in clothes that were ill fitted, poor quality and lacking style. Today, the company is built on a line of high culture premium denim. Tomorrow, House of Halls aims to be the brand that befits the man of stature from head to toe.
House of Halls believes men's fashion shouldn't be confined to one standard size segment. Welcome to the next big thing in premium denim for men who are made to be more.