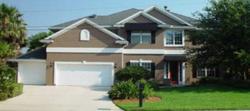 The homes that are now listed online are part of a non-realtor group of properties that have been inspected and are ready for market.
Jacksonville, Florida (PRWEB) January 06, 2013
Finding a home to purchase is now expected to be easier for those searching online. The HomesJacksonvilleFlorida.com company has now added new homes for sale in Jacksonville, FL to its current listings. These homes are available for instant purchase and are not offered by a realtor. These properties are owned by the company and are now listed online to help individuals or families complete a purchase. The properties can be viewed at http://homesjacksonvilleflorida.com.
Housing in large cities like those in Florida can be difficult to find due to the annual population increases. The tourism industry supports the Florida economy and many retirees, students and those with job transfers take up residence each year.
The homes that are now listed online are part of a non-realtor group of properties that have been inspected and are ready for market. These houses are now offered as one alternative to individuals and families.
The properties that are now listed can be searched through the new search page setup on the company website. This page now includes full color photographs, accurate descriptions and more information that is usually obtained through an in-person visit. One of the advantages to these listings is that these homes are ready for immediate occupancy. The search page now provides a fast way to connect those seeking housing with homes ready to purchase.
Obtaining a mortgage can be difficult for some people with credit problems or recent foreclosures. Not all banks or mortgage companies are willing to approve mortgages for a person who does not score high enough on a credit rating review. The homes that are now listed for immediate sale are independently owned and alternative financing is now available. This financing is now offered as one solution to help someone with a damaged credit rating get approval for a house.
Those that are currently searching for a home instead of an apartment or townhouse can now search the available properties for sale at this link http://www.homesjacksonvilleflorida.com/listing-property.
About Homes Jacksonville Florida
The Homes Jacksonville Florida company offers one of the largest listings online of available houses for sale and rent in North Florida. This company has acquired multiple properties and offers these properties to individuals and families that are seeking immediate vacancy. The ease of credit restrictions through private financing is one way that the Homes Jacksonville Florida company is helping more people with credit problems find housing. This company updates it listings regularly to ensure that new photographs, property information and other details are accurate to help those searching for a house make an informed decision.