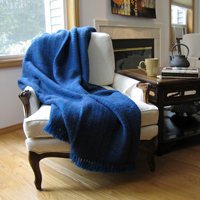 The weavers who consign their pieces to us work out of their own home or studio
Seattle, WA (PRWEB) July 1, 2009
Housewarps.com, LLC, http://www.housewarps.com , is proud to announce the launch of its website, offering hand-woven textiles for the home. Founded by Marcia Adams, the online store introduces products made by artisan weavers from all over the United States. Both decorators and consumers will have access to exclusive textiles made in a variety of styles to add to every room in the house.
Textiles perform many important functions in our homes and offices: Rugs and mats protect our floors and fine furniture; curtains provide privacy; blankets keep us warm; towels dry our hands and bodies; tapestries decorate our walls; and we use cloth to add color and texture to our environment. Housewarps.com represents the unique work of over 20 weavers who have all created their own individual answers to our textile needs.
"The weavers who consign their pieces to us work out of their own home or studio," says Marcia Adams, creator of Housewarps.com. "They have established their own style using traditional weave structures or their own distinctive designs, and manufacture the cloth on hand-operated looms. Some of the weavers raise the animals from which the fiber is harvested, and some spin and dye their own yarn. Each weaver has his/her own life story, but their common thread is a fascination with weaving and a commitment to quality craftsmanship."
In an economy when more people are choosing to entertain at home rather than dine out, Housewarps.com offers a large variety of hand towels and
https://housewarps.com/second2.php?id_mnu=6&id=152&key=SET OF 2 TABLE MATS [table mats __title__ table mats] to enhance the experience for both host and guest. And in an economic environment where our purchasing power has been compromised, Housewarps.com offers quality heirloom products that have no planned obsolescence or stale date. These textiles are all created by hand, one at a time, from quality materials.
For consumers and designers who are looking for a variety of fine, hand-woven textiles that are individually designed, and carefully and thoughtfully made by craftsmen, visit http://www.housewarps.com. A bit of the weaver's life is interlaced into each piece.
About Housewarps.com LLC.
Housewarps.com was created by Marcia Adams, whose goal is to bring weavers together with consumers who are looking for unique textiles for the home. Many of these craftspeople live in rural areas with limited access to markets. They consign their products to Ms. Adams who takes the pictures and handles all the accounting and shipping. This frees the weaver to spend more time doing what they love: creating unique, hand-woven cloth.
Contact:
Marcia Adams
866-820-5298 (PST)
support(at)housewarps.com
###