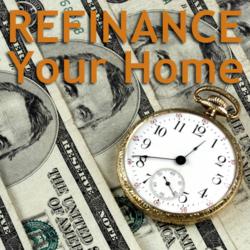 "It is clear that we're making progress. But with so many households still struggling to make ends meet, we have important work ahead," ~ Erika Poethig, assistant secretary for the Department of Housing and Urban Development.
Minneapolis, Minnesota (PRWEB) September 17, 2012
The 16.2 Million homeowners that have successfully refinanced their home mortgages since April 1, 2009 have already experienced the good news firsthand. Many economist and homeowners watching the US housing recovery for the current administration's Housing Market Scorecard, find good news in the report, yet honestly, the progress is far shy of the projected numbers and the need. of homeowners seeking to gain a home loan modification for their underwater mortgage. According to CoreLogic, the US still has 10.8 million Americans, or 22.3 percent of all homeowners, underwater.
According to the Administration's Housing Market Scorecard, Federal Reserve and Treasury Mortgage-Backed Securities purchase programs have helped home prices to increase and to keep mortgage interest rates at record lows over the past year. Over a half million home owners have refinanced their loans so far in 2012 through programs like the Home Affordable Refinance Program.
In many US real estate communities, overall property sales during the month of August continued to rise. In the face of the traditional summer slowdown the housing market usually sees in August, it is positive signal of the housing recovery's long-term strength. As with every month this year, sales and pending sales were substantially higher than their corresponding month in 2011. Trendgraphiz.com shows August sales were 3.4% ahead of July sales for 2012; and 18% better than July 2011 in Sarasota, Manatee and Charlotte Counties, showing some of the largest local gains.
In general, every month this year, sales and pending sales have been higher than their corresponding month in 2011. "Homeowners need to carefully consider their local real estate market circumstances, as neighborhoods can vary greatly and may have their own unique housing market scorecard. Buying a home and home refinancing are some of the biggest decisions we make and can correspondingly carry the biggest benefit to a household finances," says Jenna Thuening, owner of Home Destination. It is worth homeowners time and effort to understand the details of the report and to consider the Home Affordable Refinance Program if they are wanting to refinance.
The US Housing Market Scorecard highlighted topics are:

Market data show important progress in home prices and for underwater mortgages, but continued fragility overall.
The Administration's foreclosure programs are providing relief for millions of homeowners as we continue to recover from an unprecedented housing crisis.
Homeowners entering HAMP continue to benefit from deep and sustainable assistance.
With home prices rising, perhaps light lending practices with turn and favor the many Americans that are trying to refinancing their homes at low rates. Coupled with last weeks news from CoreLogic that nearly 1.3 million Americans reached "positive equity" this year, hopes are, "that will constitute a substantial stimulus to the macro-economy, worth potentially hundreds of billions of dollars," said Jared Bernstein.
Homeowners that can take advantage of rock bottom mortgage rates, the Federal Reserve's move toward quantitative easing, and home prices crawling upward may be fortuitous of a change to refinance and gain an increase in their home's equity. And best of all, note that none of this depends on Congress to do something helpful for the economy. Call Home Destination at 612-396-7832 if you are a Minneapolis or St. Paul area resident seeking to buy a home or refinance your existing home.