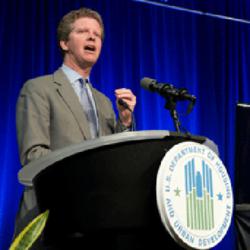 "This program creates the opportunity for everyone – the homeowner, the new mortgage holder, FHA, and the community – to walk away a winner."
~ Acting FHA Commissioner Carol Galante
Minneapolis, Minnesota (PRWEB) July 24, 2012
According to a July 18th press release, HUD is offering for sale through a competitive auction a portfolio of defaulted single-family mortgage loans (the "Mortgage Loans"). Qualified real estate investors and buyers may place bids for a 100% ownership interest to buy distressed properties. Sealed bid auctions will be held on or before September 30, 2012 referred to as the Single Family Loan Sales for Fiscal Year 2012 (the "Sales"), to acquire the Mortgage Loans.
The Distressed Asset Stabilization Program is an expansion of an FHA disposition program that sells pools of defaulted mortgages in route for foreclosure. From Home Destination's experience selling many foreclosed homes to date, owner Jenna Thuening believes it will help further the housing market's growing momentum and can see it providing opportunities for both the purchaser and borrower to avoid the huge cost of foreclosure.
"The housing market has momentum not seen since before the crisis," said HUD Secretary Shaun Donovan. "But some metro areas are still under pressure and some FHA borrowers remain seriously behind on their loans and stand to lose their homes in a matter of months. As one step towards avoiding unnecessary foreclosures and further stabilizing communities, we are increasing the number of loans beyond our original goals of 5,000 per quarter to approximately 9,000 this quarter."
Providing home loan borrowers the opportunity to potentially remain in their homes under a new sustainable mortgage is a win / win proposition. Mortgage Benefits include:
1) the homeowner
2) the new mortgage holder
3 reduces costs to FHA
4) benefits the surrounding neighborhood
The mortgage holder will have the responsibility to pursue other options such as leasing the property to the homeowner or a modification. A servicer will be able to place a loan into the loan pool for sale if:
1) the borrower is at least six months delinquent
2) all loss mitigation options have been exhausted
3) a foreclosure proceeding has not stated
4) the mortgage borrower is not in bankruptcy
Additionally the FHA announced new neighborhood stabilization requirements for the hard-hit metros selected for a nice slice of the funds- where 3,500 loans are to be sold. In Chicago, Newark, Phoenix, and Tampa, to keep a balance, no more than 50 percent of loans purchased within a pool can be sold as real estate owned (REO) properties.
'Qualified bidders" means someone approved with a net worth in excess of $5,000,000 determined in accordance with the Generally Accepted Accounting Principles (GAAP). It appears that the bidders will need to declare themselves as either (including, but not limited to) a corporation, partnership, limited liability company, business trust, savings and loan association, insurance company, investment company, bank or business entity.
Investors who own those loans must delay foreclosure proceedings for at least six months, so the mortgage's new servicer can try to find an alternative to foreclosure. HUD'S website says, "Entities interested in submitting Bidder Qualifications for the Distressed Asset Stabilization Program pools should complete the Confidentiality Agreement and the Distressed Asset Stabilization Program Qualification Statement". Submit completed documents by e-mailed to SFLS2012-3(at)debtx(dot)com.
Acting FHA Commissioner Carol Galante concluded, "FHA not only avoids the costs associated with a long foreclosure process, but also the high costs of maintaining and selling vacant properties in already distressed markets." That is good cause for the FHA-insured notes to be sold to investors at a price below the outstanding principal balance.
The September 30th deadline will come around quickly. Contact Jenna Thuening, owner of Home Destination at 612-396-7832 for help buying distressed properties.