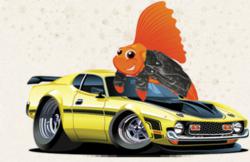 To me, this is entirely an ethical matter at this point.
New York, NY (PRWEB) July 09, 2012
RoadFish.com men's lifestyle and finance magazine today beseeched the Olympic planners behind the plans for construction of new, affordable homes on the site of the current Olympic Park. RoadFish.com was disturbed to find out that due to recent housing policy changes, the definition of "affordable" housing seems to be changing, and the new structures might be inclusive to wealthier locals and not actually provide homes within the means of many of London's working class.
Charlie Cooper of UK publication The Independent reported that although more than 11,000 new properties are in the works for the site of the Olympic Park, the price tag on the rent might be increasing even though they were intended to be "affordable housing" units. According to the article, the chair of the London Assembly's Olympics scrutiny panel, Baroness Doocey, stated to deny affordable housing to locals would "negate the promise that was made when we won the Olympics seven years ago." The promise that Baroness Doocey refers to is five new neighborhoods spread across 558 acres of the site currently being used for the Summer Olympics. Included in the promise was the guarantee that thousands of these new homes would be assigned to social housing and would be affordable for the many London locals whose salaries and personal finances do not allow room for exorbitant rental prices. However, recent changes to housing policy in the UK are threatening to make this a moot promise. Estate agents will have a field day with all the new homes, but locals will be crushed by false hope.
RoadFish.com today beseeched the London planners to stick to their word and consider the locals who are in dire need of an affordable place to live. RoadFish.com's Senior staff writer is quoted as saying, "To me, this is entirely an ethical matter at this point. I'm sure it was once about money, and you could still argue that it is. But if you took a look at the amount of people who are on the waiting list for affordable housing—it's a number over 30,000, and that's just unbelievable. The people of London need to have more affordable places to live, especially as the value of the Euro continues to dip and people are being forced out of homes. I hope that the Olympic planners and whoever else is behind the decision making for these new homes does the right thing."
The above-mentioned Independent article reports that in 2011, the Coalition Government introduced changed to social housing policy by allowing subsidized properties to be rented at as much as 80% of the market rates, meaning that social housing units only need to be advertised for 20% less than a comparable home to be defined as "affordable." The article estimates that the average monthly rent for a two-bedroom home in Newham (one of the new neighborhoods) is a whopping 953 pounds, or $1,478 in US dollars. That means that an "affordable" apartment need only go for 762 pounds per month (or $1,182) to be classified as such. Cooper points out that this amount of money is still far above the means of the majority of locals, who are being hit hard by the Eurozone crisis.
The director of homeless skills center Anchor House in Newham, Keith Fernett, is quoted as saying, "The key thing is that word 'affordable.' Traditionally 'affordable' meant homes for working-class, low-income people. It has been redefined and now it means affordable for graduates and young professionals. Affordable now means earning £30,000 or more, which is beyond most of the people in the borough. There are 32,000 people on the social housing waiting list here and we don't expect the Olympic Park to make a dent in that."
RoadFish.com agrees with Olympic chair Dooney that it would be a true betrayal to the east London locals if Olympic housing planners went back on their word to provide affordable housing in the wake of the Olympics. RoadFish.com's Senior staff writer is quoted as saying, "This should have been set in stone years ago. When a city takes on the responsibility of hosting the Olympic games, they are committing to spending hundreds of thousands of dollars on architects, construction, materials, and labor. If thousands of locals can't benefit at the end of the day from something that will better their living situations, then I would disagree with the decision to host in the first place. That money could have been better spent towards more housing, seven years ago."
Cooper reported that the new neighborhoods are supposed to go up in the London boroughs of Tower Hamlets, Hackney, and Newham. The plan is to construct 11,000 homes over the course of the next 20 years, with the first waves going up in just over a year on the site of the current Athletes' Village. And units in Chobham Manor, slated to be the first of the five neighborhoods, are scheduled to be finished in 2014.
About RoadFish.com
RoadFish.com is an online men's lifestyle and finance magazine targeted toward men in their 30's and 40's that have already attained a moderate level of success in life, and are striving toward more. It goes over current events of interest to this group, such things as exciting adventures, managing personal finances, consumer interests, hot chicks, and advice on personal finance as well as ways to make more and save more money. It is a publication owned by Purpose Inc.
# # #