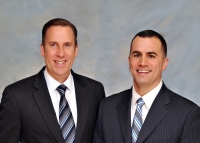 More and more underwater homeowners are coming up for air!
Waltham, MA (PRWEB) June 19, 2013
McGeough Lamacchia Realty ran a report showing the housing inventory levels for the month of January each year from 2000 through 2013. According to data provided by MLS Property Information Network (MLSPIN), the report found the number of homes in Massachusetts on the market this past January was 22,045, the lowest amount for that month since 2004 when the number of homes was 17,666.
The report also shows housing inventory levels have been increasing each month in 2013.
John McGeough and Anthony Lamacchia, co-brokers and owners of McGeough Lamacchia, say that January 2013 was the lowest point housing inventory will reach for years to come and cite three main reasons low housing inventory levels have finally bottomed out.
The first reason McGeough Lamacchia says since home prices are increasing, homeowners are realizing that they can sell their homes for more than they could a year ago.
"This will really come to fruition this summer when most of the spring sales are final and people start hearing what their neighbors' homes sold for," says John McGeough. "As this happens, more sellers will list their homes for sale so they can buy a bigger home, also known as trading up."
McGeough says this trend in sellers trading up will increase dramatically over the next few years.
The second reason inventory will increase is that building permits are on the rise for the first quarter this year, meaning more homes will be built. This will feed the market with more new construction inventory than it has seen since 2007.
"Even though building permits are on the rise there still aren't nearly enough homes being built to feed the demand or to even come close to the amount of building that occurred during the last housing boom," says Anthony Lamacchia. "This indicates permits and building will continue to increase over the next few years."
The third reason McGeough Lamacchia says housing inventory will increase is as home selling prices increase more homes that are currently underwater—also known as being in negative equity—will no longer be underwater.
"More and more underwater homeowners are coming up for air!," says Anthony Lamacchia.
In fact, according to a report last week from Corelogic, 850,000 more homes regained positive equity during the first quarter of 2013.
The Corelogic report also said the national aggregate value of negative equity decreased more than $50 billion to $580 billion at the end of the first quarter from $631 billion at the end of the fourth quarter of 2012. With an increase in homes with positive equity, more homeowners who couldn't sell their homes before can sell them now.
For example: if someone owed $400,000 on their home and in 2010 and 2011 it was worth $390,000, they could not sell unless they did a short sale or paid the difference. With prices increasing, by 2014 the home could be worth as much as $420,000 and by that time the mortgage balance will be slightly lower, so the homeowner would be more willing to sell.
Homeowners that were unable to sell in years past will be able to sell this year and even more likely to sell in the years to come, which will mean more homes on the market.
McGeough Lamacchia says as these factors continue, inventory will rise to a healthier level which will make for a healthier market.
To learn more, visit the New England Real Estate Blog
About McGeough Lamacchia
John McGeough and Anthony Lamacchia are the number one Real Estate Agents in Massachusetts and named one of the Top 100 Real Estate Teams by the Wall Street Journal in 2010. They are a full service real estate agency serving home buyers and sellers Massachusetts and New Hampshire.
Sources:
MLS Property Information Network:Housing Inventory for January 2004 and 2013:
http://www.mlrealtyne.com/wp-content/uploads/2013/06/housing-inventory-2004-2013.pdf
Corelogic - 850,000 More Residential Properties Return to Positive Equity in First Quarter of 2013:
http://www.corelogic.com/about-us/news/corelogic-reports-850,000-more-residential-properties-return-to-positive-equity-in-first-quarter-of-2013.aspx