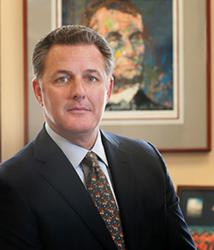 When two cars going 85 mph collide, the car accident is far more likely to cause serious injuries or fatalities than when slower-moving vehicles are involved in accidents.
Houston, Texas (PRWEB) November 03, 2012
Houston car accident lawyer Kevin Krist said today that the 85 mph speed limit -- the highest in the nation -- on a new Texas toll road will require drivers to exercise greater caution behind the wheel and law enforcement to stop those who fail to drive safely on the high-speed highway.
"Speeding is already one of the major factors in serious accidents in Texas," Krist said, "and raising the speed limit to the highest in the U.S. is likely to significantly increase the risk of auto accidents and the severity of the injuries that result."
Krist was referring to the 85 mph limit that was posted on a new section of Texas Highway 130 that opened late last month. The speed limit on the new segment of the toll road that runs from near Austin to Sequin tops the 75 mph limit common on many rural Texas freeways, and it exceeds even the 80 mph limits on some isolated stretches of interstate highways in west Texas and Utah.
Krist, founder of The Law Office of Kevin Krist, a Houston personal injury firm, is concerned that the higher speed limit is dangerous for several reasons. He said he believes one issue is that drivers will see the 85 mph limit as a green flag to drive much faster, since many drivers regularly exceed posted limits.
"When drivers see an 85 mph speed limit, they may be tempted to push it to 90 or 95 mph. Many people cannot control their cars safely at that speed, and many won't allow for the longer following distances that are necessary," Krist warned.
Those concerns are magnified when high speeds are mixed with distracted driving, drunk driving, aggressive driving and other dangerous behaviors behind the wheel, he said.
According to a recent article in the Austin American-Statesman, Texas Department of Transportation officials say the speed limit is safe for the road, considering its design, and that most motorists won't necessarily exceed the limit as a regular practice.
Studies have been mixed on whether higher speeds result in more traffic accidents. While a possible increase in the number of car accidents is one big concern, Krist said that the likely increase in the severity of auto accidents presents an even bigger problem.
"High-velocity objects collide with greater force," he said. "When two cars going 85 mph collide, the car accident is far more likely to cause serious injuries or fatalities than when slower-moving vehicles are involved in accidents."
While driving 85 mph is allowed on the new stretch of Texas highway, Krist reminded drivers that they can still face legal consequences if they drive too fast for unsafe road conditions, such as rain, fog, ice, heavy traffic and other hazards. "Remember, even if the speed limit is 85, if it is not safe to drive that fast and you do so anyway, you can be ticketed and you can be sued if you cause an accident and hurt someone," he said.
Krist urged people who have become victims of Texas car accidents to seek legal help, especially if the responsible driver engaged in unsafe driving practices that led to the crash. "Although talking on a cell phone while driving and traveling 85 mph may be legal, drivers can still be held accountable for the accidents they cause if they are driving recklessly," he said.
The Houston car accident lawyers at The Law Office of Kevin Krist can review the circumstances of an accident and help victims to determine if the other driver behaved negligently. If so, the firm can help victims pursue claims for damages including medical costs, lost wages, pain and suffering and emotional distress.
About the Law Office of Kevin Krist
The Law Office of Kevin Krist is a Houston personal injury law firm dedicated to protecting Southeast Texas residents who have suffered catastrophic injuries in serious and tragic accidents. For more than 25 years, the firm has represented clients in personal injury and wrongful death claims involving auto and truck accidents, aviation accidents, business litigation, catastrophic injury, defective products, explosion or burn injuries, maritime injuries, medical malpractice, spinal injury, traumatic brain injury and workplace accidents. The firm serves accident and injury victims throughout Houston, Harris County, Pasadena, Katy, Baytown, League City and surrounding areas. The firm's office is located 3401 Allen Parkway, Suite 102, Houston, TX 77019. To learn more about The Law Office of Kevin Krist, call (281) 677-3959 or use the firm's online contact form.