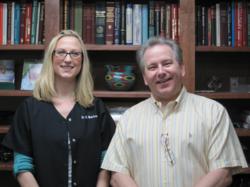 Houston, TX (PRWEB) October 08, 2012
On Sunday, Greenspoint Dental finished its Facebook campaign benefitting the Mercer Arboretum and Botanic Gardens.
The Houston dental office agreed to donate $1 to the Mercer Arboretum for each new like their business page received during the month of September.
In the end, Greenspoint Dental raised $160 to benefit the Arboretum's programs. In the final four days alone, the practice raised $36 for the Mercer Arboretum and Botanic Gardens.
Dr. Louis Bosse, the lead dentist at Greenspoint Dental, chose to partner with Mercer Arboretum because he enjoys visiting the facilities gardens and his wife is an avid gardener.
"The services offered by Mercer Arboretum and Botanic Gardens help instill a love for nature in the children in our area," Dr. Bosse said. "It's something we need to protect and help in any way we can."
The Mercer Arboretum and Botanic Gardens, which is maintained by Harris County, provides a home to many different species of birds, more than 70 varieties of butterflies and more than 25 different gardens. The organization's plant collections feature annuals, perennials, natives and cultivated plants in 300 acres of the East Texas Piney Woods outside of Houston.
About Greenspoint Dental
Greenspoint Dental is a family dental practice that has been operating in Houston for the last 15 years. Dr. Louis Bosse, the lead dentist at Greenspoint Dental, provides general, restorative and cosmetic dentistry, including Houston veneers, to his patients. His associate, Dr. Kari Blankenship, provides dentistry services to patients of all ages, but particularly enjoys working with younger patients. To read more about the services offered by Greenspoint Dental, click here.
###