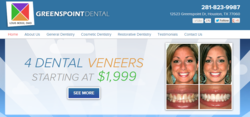 Houston, TX (PRWEB) October 15, 2012
Greenspoint Dental has made small changes to its website that had major effects in its ease of use and overall beauty.
The Houston dentist practice has changed the website's fonts and typography to make the site's text and blog easier for visitors to read.
The site now features a responsive design for better mobile access and aesthetics on screens of every different size.
"This new site is beautiful and easy to read," said Dr. Louis Bosse, the lead dentist at Greenspoint Dental. "We look forward to having our patients and those who are looking for a dentist visit the site and see the changes we've made. And with the website's new responsive design, people can see the changes on the go with their smartphones or tablets."
Greenspoint Dental's website still features the elements that were most helpful to visitors before the redesign, including the form for scheduling appointments, the informative blog about dentistry issues and Web pages that detail the different services offered at the practice. The site also still features a testimonials page to help people in Houston find a friendly, compassionate dentist.
About Greenspoint Dental
Greenspoint Dental is a family dental practice that has been operating in Houston for the last 15 years. Dr. Louis Bosse, the lead dentist at Greenspoint Dental, provides general, cosmetic and restorative dentistry to his patients. His associate, Dr. Kari Blankenship, provides dentistry services to patients of all ages, but particularly enjoys working with younger patients.
###