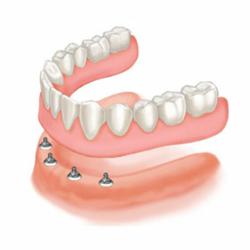 Houston, Texas (PRWEB) February 13, 2013
Greenspoint Dental has extended its special price for snap-on dentures for another month.
The special will continue to offer two options for patients interested in snap-on dentures. For patients needing new, complete dentures, Greenspoint Dental is offering snap-on dentures with four implants for only $5,995 per arch (upper or lower). For patients who have existing complete dentures, the Houston dental clinic is offering snap-on dentures with four implants for only $4,995 per arch.
"Spaces filled up so quickly last time that we decided to extend this offer a little longer," said Dr. Louis Bosse, the lead cosmetic dentist at Greenspoint Dental. "Snap-on dentures can make a world of difference for patients struggling with slippery, traditional dentures."
Unlike traditional dentures, snap-on dentures stay in place without requiring adhesive gel, making them easier to use and more comfortable.
The staff at Greenspoint Dental said that spaces are limited and they expect the appointment times to fill up quickly. The offers are for patients needing a complete set of teeth and does not include charges for teeth extraction, sinus grafting or other major grafting procedures. The existing dentures must be in good working condition and suitable for reline to be eligible for the $4,995 option.
To learn more about Greenspoint Dental's snap-on dentures special or any of the other specials currently offered at Greenspoint Dental, click here. To schedule an appointment for a free consultation, call 281-823-9987.
About Greenspoint Dental
Greenspoint Dental is a family dental practice that has been operating in Houston for the last 15 years. Dr. Louis Bosse, the lead dentist at Greenspoint Dental, provides general, cosmetic and restorative dentistry to his patients. His associate, Dr. Kari Blankenship, provides dentistry services to patients of all ages, but particularly enjoys working with younger patients.
###