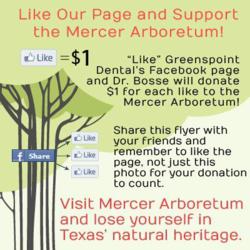 HOUSTON, TEXAS (PRWEB) September 10, 2012
Throughout the month of September, Dr. Louis Bosse will be donating $1 to the Mercer Arboretum and Botanic Gardens for every one "Like" that he gets on his Facebook page, Greenspoint Dental.
Greenspoint Dental, a practice of Houston Cosmetic Dentists, will be donating the money to the Mercer Arboretum because of Dr. Bosse's love for the outdoors and his wife's love of gardening. Dr. Bosse, a provider of Invisalign in Houston, has enjoyed visiting the Mercer Arboretum for as long as he's known about its offerings.
Throughout the month, the Greenspoint Dental Facebook page will be posting photos of flowers and trees native to the area and asking visitors to share their favorite parts of nature.
"The Mercer Arboretum and Botanic Garden is a treasure for our area," Dr. Bosse said. "It instills a love of nature and gardening into children, provides access to beautiful flowers and gives us a way to get in touch with nature. Without the services they provide, our area would be a very different place. That's why we decided to donate money to this wonderful cause."
The Mercer Arboretum and Botanic Garden features more than 70 species of butterflies, a wide variety of birds and more than 25 different gardens and plant collections that feature annuals, perennials, natives and cultivated plants in 300 acres of the East Texas Piney Woods. The facility is maintained by Harris County and provides educational opportunities and gardens for public enjoyment.
About Greenspoint Dental
Greenspoint Dental is a family dental practice that has been operating in Houston for the last 15 years. Dr. Louis Bosse, the lead Houston dentist at Greenspoint Dental, provides general, cosmetic and restorative dentistry to his patients. His associate, Dr. Kari Blankenship, provides dentistry services to patients of all ages, but particularly enjoys working with younger patients.