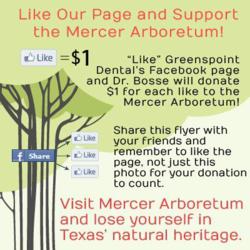 Houston, TX (PRWEB) October 09, 2012
Greenspoint Dental made a donation to the Mercer Arboretum and Botanic Gardens earlier this month.
The donation was made at the end of a Facebook promotion for the Houston dental clinic. The dentists agreed to donate a dollar for every new like the practice's page received during the month of September.
The Mercer Arboretum is a large botanic garden maintained by Harris County that features more than 25 different gardens, ranging from herb gardens to rock gardens to color gardens. The facility features native plants as well as endangered species of plants.
The 300 acres of the East Texas Piney Woods occupied by the Mercer Arboretum is also home to more than 70 varieties of butterflies.
"Mercer Arboretum and Botanic Gardens is one of the most beautiful places I've ever been," said Dr. Louis Bosse, the lead dentist at Greenspoint Dental. "We chose to donate money to them because we want future generations to be able to witness the beauty of nature for themselves."
The practice donated more than $150 to the Mercer Arboretum and Botanic Gardens as a result of its Facebook promotion.
About Greenspoint Dental
Greenspoint Dental is a family dental practice that has been operating in Houston for the last 15 years. Dr. Louis Bosse, the lead dentist at Greenspoint Dental, provides general, restorative and cosmetic dentistry, including Houston veneers, to his patients. His associate, Dr. Kari Blankenship, provides dentistry services to patients of all ages, but particularly enjoys working with younger patients. To learn more about the general dentistry services offered at Greenspoint Dental, visit this page.
# # #