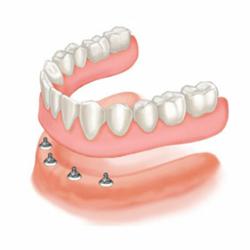 HOUSTON, TEXAS (PRWEB) October 23, 2012
Greenspoint Dental is offering a new service with a special price for the fall: snap-on dentures with four implants.
Patients with existing complete dentures who are looking to switch to snap-on dentures can purchase the snap-on dentures with four implants for only $4,995 per arch (upper or lower).
For patients needing new complete dentures, the Houston dentists are offering snap-on dentures and four implants for only $5,995 per arch.
The special applies only for patients needing a complete set of dentures. For patients with teeth, there will be a charge for extraction of the remaining teeth.
Snap-on dentures are an easy alternative to slippery dentures, which can be embarrassing and uncomfortable. This innovative kind of denture stays in place and is comfortable to wear, giving patients the confidence to show off their smile once again.
"We're excited to offer this special," said Dr. Louis Bosse, the lead dentist at Greenspoint Dental. "Many people are embarrassed by their traditional dentures, which can keep them from smiling in public, but alternatives are sometimes too expensive to be viable options. We're confident this special will give people an opportunity to make a change that will have a positive impact on their lives."
To read more about Greenspoint Dental's denture offerings, click here.
About Greenspoint Dental
Greenspoint Dental is a family dental practice that has been operating in Houston for the last 15 years. Dr. Louis Bosse, the lead dentist at Greenspoint Dental, provides general, cosmetic and restorative dentistry to his patients. His associate, Dr. Kari Blankenship, provides dentistry services to patients of all ages, but particularly enjoys working with younger patients.
###