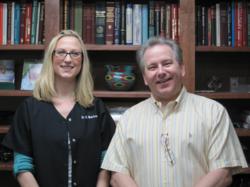 Houston, TX (PRWEB) December 12, 2012
The Houston dentists at Greenspoint Dental now provide sedation dentistry, also known as sleep dentistry, to their patients.
Greenspoint Dental now offers three types of sedation dentistry: nitrous oxide, oral sedation and IV sedation.
Nitrous oxide, also known as laughing gas, is the most common form of dental sedation and works best for mild to moderate anxiety. It can be used for any appointment length and can be changed quickly if the patient requires more sedation.
Oral sedation is provided to patients in pill form and works well for most people. This form of sedation leaves patients with only some memory of the procedure.
IV sedation is also known as deep conscious sedation. By administering the medication directly into the bloodstream, the dentists at Greenspoint Dental can provide patients with a much a more effective sedation solution. Although patients remain conscious under IV sedation, patients report feeling as if they slept through the procedure.
"A lot of patients have severe dental phobias, and these phobias often keep people from seeking the dental treatment they need to keep their mouths healthy," said Dr. Louis Bosse, the lead dentist at Greenspoint Dental. "Sedation dentistry can help any patient who fears dental procedures, and that's why we decided to offer this service."
Depending on the type of sedation, patients may need to have someone take them home after their appointment. To read more about sedation dentistry at Greenspoint Dental, click here.
About Greenspoint Dental
Greenspoint Dental is a family dental practice that has been operating in Houston for the last 15 years. Dr. Louis Bosse, the lead dentist at Greenspoint Dental, provides general, cosmetic and restorative dentistry to his patients. His associate, Dr. Kari Blankenship, provides dentistry services to patients of all ages, but particularly enjoys working with younger patients.
###