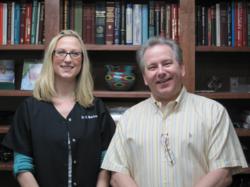 HOUSTON, TEXAS (PRWEB) April 23, 2013
Greenspoint Dental is offering two options for reduced priced snap-on dentures for a limited time.
Patients can choose from snap-on dentures with four implants for only $5,995 per arch (upper or lower) if they need a new, complete set of dentures, or snap-on dentures with four implants for only $4,995 per arch if they have an existing set of complete dentures.
Snap-on dentures use dental implants to secure the dentures and prevent them from sliding around in the patient's mouth. Patients almost always find snap-on dentures more comfortable than traditional dentures, said Dr. Louis Bosse, the lead Houston cosmetic dentist at Greenspoint Dental.
"Snap-on dentures are one of the best services we offer," Dr. Bosse said. "For many patients, traditional dentures are uncomfortable and embarrassing, but these dentures stay in place, making it difficult to tell that they're dentures. They make it easier for patients to eat and speak, and more enjoyable for them to smile. We're so proud of this procedure, and I'm glad we're able to offer it at a lower price for a while."
According to the staff at Greenspoint Dental, the appointment times for this offer are limited and already filling up quickly. They recommend that interested patients contact the office by calling 281-823-9987 as soon as possible to schedule a free consultation to determine if they're a good candidate for the procedure and if any other dental work will need to be performed before receiving the snap-on dentures.
About Greenspoint Dental
Greenspoint Dental is a family dental practice that has been operating in Houston for the last 15 years. Dr. Louis Bosse, the lead dentist at Greenspoint Dental, provides general, cosmetic and restorative dentistry to his patients. His associate, Dr. Kari Blankenship, provides dentistry services to patients of all ages, but particularly enjoys working with younger patients.
###