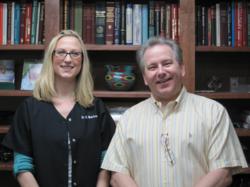 Houston, TX (PRWEB) June 17, 2013
Greenspoint Dental has extended its two offers for reduced price snap-on dentures for one more month.
Snap-on dentures are an alternative to traditional, slippery dentures that snap in place using dental implants, making them more comfortable and more reliable than traditional dentures.
With this offer, patients can choose from two options: Snap-on dentures with four implants for only $5,995 per arch (upper or lower) and a new, complete set of dentures, or snap-on dentures with four implants for only $4,995 per arch if they have an existing set of complete dentures.
"I've spoken to a lot of patients with dentures, and many patients have told me that their dentures were a source of embarrassment," said Dr. Louis Bosse, the founding dentist at Greenspoint Dental. "Snap-on dentures are a great solution for the problems that usually accompany dentures. They don't slide around in your mouth or require adhesive. Instead, they lock in place and look like natural teeth."
According to the staff at Greenspoint Dental, appointment times for the special offer are filling up quickly, so patients should call the Houston dentists at 281-823-9987 as soon as possible.
To be eligible for this offer, patients must need a complete set of dentures. Other procedures, such as teeth extraction, sinus grafting and other major procedures are not included. Click here to learn more about the two snap-on dentures specials.
About Greenspoint Dental
Greenspoint Dental is a family dental practice that has been operating in Houston for the last 15 years. Dr. Louis Bosse, the lead dentist at Greenspoint Dental, provides general, cosmetic and restorative dentistry to his patients. His associate, Dr. Kari Blankenship, provides dentistry services to patients of all ages, but particularly enjoys working with younger patients.