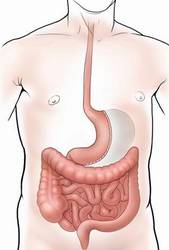 Most patients can go home early the following day after an LSG(Gastric Sleeve) procedure.
Houston, TX (PRWEB) May 14, 2010
People who suffer from morbid obesity can consider a new primary weight loss operation known as the Laparoscopic Sleeve Gastrectomy (LSG), or the Gastric Sleeve Operation.
The Houston Surgical Specialists, lead by Doctor Robert G. Marvin, offer an all inclusive Texas Gastric Sleeve Package for a special rate of $11,000, which is about $5,000 under the typical cost for this type of weight loss procedure. This offer includes the surgery, all assistant fees, anesthesia fees, hospital costs, and the first 90 days of follow-up*(See details below).
Gastric sleeve is a minimally-invasive laparoscopic procedure done by placing a scope through small incisions made in the abdomen. This results in less post-operative pain than a traditional surgical procedure that requires a larger incision. Most patients can go home early the following day after a LSG. Also, returning to work is much easier, and can usually be done within seven-to-ten days—and sometimes as few as three.
Laparoscopic Sleeve Gastrectomy is a relatively new procedure devised for people who are severely obese and who may be suffering serious medical problems because of the obesity (e.g. diabetes, high blood pressure, high cholesterol, etc). These people will get the best benefit from maximum weight loss.
The goal is to decrease the storage capacity of the stomach so the patient experiences a subjective feeling of fullness after consuming smaller amounts of food. The surgeon tapers the stomach into a narrow tube and a large, stretchable part is removed.
According to Doctor Marvin, this procedure does more than just reduce the reservoir function of the stomach. It also alters the concentration of intestinal hormones, curbing the desire to eat. As a result of gastric sleeve the patient is literally less hungry, and post-operative dietary recommendations are easier to follow.
There are several advantages the gastric sleeve has over other surgeries for Houston weight loss surgery patients. No foreign body (Lap Band) is placed into the abdomen, so there is no chance of slippage or erosion that might require a second operation. The intestine is not rearranged, as would be the case with Gastric Bypass surgery. Thus, there is minimal possibility of ulcer formation, small intestinal obstruction, or vitamin and mineral deficiencies. Houston Surgical Specialists report that the gastric sleeve operation has dramatically lower long-term complications and re-operation rates than Gastric Bypass.
Those with insurance through United Healthcare, Blue Cross - Blue Shield Federal, Aetna, and some forms of Medicaid may be able to have their gastric sleeve procedure covered. Aetna recently approved this procedure as medically necessary for people with a history of obesity related health issues.
Houston Surgical Specialists is a multi-physician practice that specializes in helping those who suffer from morbid obesity. They approach weight loss with a wide range of treatment plans, including medically supervised diets, nutrition and vitamin plans, and all proven effective surgical procedures. They are recognized by the pre-eminent society of weight loss surgeons in the United States, and are one of the premier practices for obesity care in the Houston, Texas area.
Houston Surgical Specialists area of service in Texas includes Houston, San Antonio, Austin, Beaumont, Lake Charles, Victoria, Corpus Christi, and Galveston.
Contact:
Houston Surgical Specialists
3429 West Holcombe
Houston, TX 77025
Toll free – 866.696.8660
Email: info(at)doctormarvin(dot)com
Web: http://www.doctormarvin.com
*Only the primary operation and typical follow-up are covered. Any complications requiring additional hospital stay or treatment is not. A separate one-time only insurance plan is available, at extra-charge, to cover this possibility.
Business marketing consultants
###