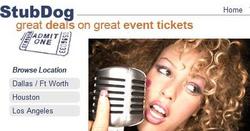 With the addition of these diverse entertainment organizations, StubDog.com now offers something for many different interests, price ranges and areas of the city
Houston, TX (PRWEB) September 25, 2008
Today, just in time for summer outings, StubDog.com -- the premier online discount ticketing resource for live, local events -- announced the addition of new entertainment opportunities in the Houston area. With chances to laugh out loud, shop 'til you drop, learn about Houston and splash friends and neighbors with paintballs, StubDog.com now features event tickets from more Houston entertainment venues than ever before.
"With the addition of these diverse entertainment organizations, StubDog.com now offers something for many different interests, price ranges and areas of the city," declared Sam Levassar, Founder and CEO of StubDog.com.
With thousands of subscribers to its locally targeted weekly e-newsletters, StubDog.com helps people find great deals on great entertainment and helps entertainment outlets diversify their audiences. Most tickets are offered at half-price with the customer absorbing a small service charge. New offerings are posted frequently, often daily.
StubDog.com's newest opportunities include:
-The Ensemble Theatre's Radio Golf by August Wilson; a vibrant musical revue and tribute to the black musicians of the early 1900s.
-Houston's Theatre Under the Stars (TUTS) production of the Disney Classic show "Gepetto & Son's" in the Hobby Center's Sarofim Hall.
-Discover Houston Tours, where you can learn about Houston's past by touring historic buildings and cemeteries or Houston's present by touring 2 downtown tunnels, METRO Rail and 2 museums.
-DiverseWorks! Catastrophic Theatre, offering "The Splasher," an entertaining look at today's graffiti culture and what happens when anarchists and artists become embroiled in a turf war over who owns the streets.
-Mystery Cafe, offering "Killer Karaoke" as an opportunity for you to detect just who is stalking the contestants while there are still some crooners living! Includes 3-course dinner.
-Urban War Zone Paintball offering the opportunity to shoot (and paint splash) your way through downtown's finest paintball field.
Entertainment Venues:
StubDog.com provides entertainment venues the opportunity to reach a much larger audience by selling their extra inventory to people who wouldn't have tried that event at full price. Without additional advertising costs, in fact at no cost to the entertainment venues at all, StubDog.com helps fill seats to various productions and activities -- seats that might otherwise remain empty -- thereby increasing revenue.
"StubDog.com offers the online community great prices that allow us to glean new audiences on dates or times that tend to be lower attendance," says Andrea Lynn of A. D. Players, an early adopter of the online resource. "And StubDog.com pays us 100% of the price listed on the website. They are a nice complement to our promotional needs."
Customers who purchase the deeply discounted seats online pay a small service charge, which is added to the price.
Favorites still available:
Since 2006, StubDog.com has offered Houstonians the opportunity to enjoy local entertainment at a fraction of the original ticket price. "Never fear," says Levassar. "We're still offering all your old favorites, too."
StubDog.com still features such Houston favorites as:
-Laff Spot Comedy Club, currently featuring Carl Labove and Kenny Rogers on the StubDog.com website.
-Magic Island, offering an evening of world-class magic and comedy shows featuring resident magicians and international stars of illusion.
-Shecky's Girls Night Out, featuring complimentary cocktails and refreshments while offering fabulous emerging fashion and accessories.
Developed to promote live local events, StubDog.com gives people the opportunity to try something new -- at a fraction of the regular cost. Now offering events tickets in Houston, Dallas/Fort Worth and Los Angeles, StubDog.com is the single place to browse for discounted tickets to great events in all these cities. For more information call 866-573-0454 or visit http://www.StubDog.com
###